16 maart 2015: Bron: JAMA Internal Medicine
40 procent van door de FDA geconstateerde fraude bij klinische studies wordt uiteindelijk niet gecorrigeerd in definitieve studiepublicaties en ook niet vermeld in uiteindelijke voorschriften voor medicijnengebruik. Dit blijkt uit een steekproefgewijze studie naar 75 klinische studies uit de afgelopen 15 jaar (1998 t/m 2013) waarbij de FDA fraude heeft geconstateerd in de data die werden gebruikt voor de peerreviewed studiepublicaties. Peer reviewed betekent dat "onafhankelijke" wetenschappers de studie hebben beoordeeld op basis van de beschikbare datagegevens.
Uit dit onderzoek bij uiteindelijk 75 studies blijkt dat vervalsing van informatie plaats vond in 22 studies (39%); problemen met vermelding van bijwerkingenin 14 studies (25%); protocol schendingen in 42 studies (74%); incorrecte of vervalste data verslaglegging in 35 trials (61%); falende bescherming van de veiligheid van de patiënten bij 30 studies (53%); en niet apart gecatoriseerde fraude bij 20 studies (35%).
Slechts bij 3 studies van de 78 publicaties (4%) werd correct vermeld wat de FDA had gevonden bij hun inspectie.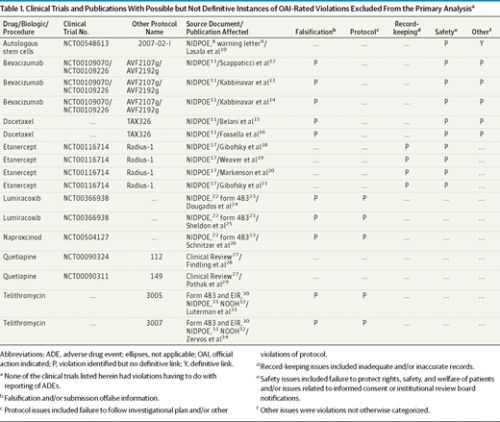 1 beschreven voorbeeld van fraude uit deze studie wil ik eruit lichten, niet dat alle fraude zo ernstig was maar als zelfs dit niet wordt gecorrigeeerd en de producent van dit medicijn kan zomaar doorgaan dan is er toch wel iets grondig mis lijkt mij. De nummers in de tekst corresponderen met de referentielijst onderaan dit artikel :
Voorbeeld 3:
Een wetenschapper was betrapt op het vervalsen van documenten in verschillende studies 173-176 In enkele gevallen leidde dit tot de dood van een patiënt in een studie waarin chemokuren werden vergeleken met elkaar. De onderzoeker had laboratoriumuitslagen vervalst waarin een slechte nierfunctie en leverfunctie werd gezien. En de eerste volgende chemokuur die de patiënt kreeg toegediend bleek fataal. De wetenschapper is door justitie schuldig bevonden aan fraude en veroordeeld tot 71 maanden gevangenisstraf. Hoewel deze gebeurtenis uitgebreid tot in details door de FDA is beschreven en gedocumenteerd 11,67 en ook in de rechtbankdocumenten,177 is geen van deze publicaties in de peer reviewed publicaties gerelateerd aan de chemokuur studie waarin de patiënt is overleden noch is er vermelding gemaakt van deze vervalsing en fraude. 70- 72,178 . De publicaties gerelateerd aan 2 van de 3 andere studies waarvoor de wetenschapper de documenten vervalste vermelden ook deze vervalsingen en fraude niet.68,73
Het volledige studierapport: Research Misconduct Identified by the US Food and Drug AdministrationOut of Sight, Out of Mind, Out of the Peer-Reviewed Literature is gratis in te zien.
Hieronder het abstract en referentielijst van de 75 onderzochte studies:
When the FDA finds significant departures from good clinical practice, those findings are seldom reflected in the peer-reviewed literature, even when there is evidence of data fabrication or other forms of research misconduct.
Research Misconduct Identified by the US Food and Drug Administration

Out of Sight, Out of Mind, Out of the Peer-Reviewed Literature
FREE
ONLINE FIRST
References
Gerelateerde artikelen