19 mei 2017: Bron: American Urological Association (AUA) Annual Meeting 2017
Meer en meer komen er ook voor prostaatkanker aanvullende diagnostische testen zoals urinetesten en genentesten op de markt (zie in gerelateerde artikelen) die kunnen voorspellen of patiënten met een diagnose van operabele prostaatkanker nog verdere behandeling nodig hebben of dat zij kunnen volstaan met een wait-and-see beleid. Aan dit rijtje kan nu ook de GPS (Oncotype DX® Genomic Prostate Score Test) wel worden toegevoegd.

Op de American Urological Association (AUA) Annual Meeting 2017 werden overtuigende resultaten van de efficiëntie van de GPS test gepresenteerd. De GPS test voorspelde in een studie met grote zekerheid hoe groot de kans was dat patiënten met een diagnose van prostaatkanker later uitzaaiingen zouden ontwikkelen en / of zouden overlijden aan hun ziekte. Maar de belangrijkste conclusie was dat voor prostaatkankerpatiënten met een erg laag of laag of gemiddeld risico (Gleasonscore van 7 of minder) die bij de GPS test onder een score van 20 bleven zij verder geen behandeling nodig zouden hebben dan hoogstens een wait-and-see beleid.
(Red: Daarbij opgemerkt dat zover ik dat kan beoordelen geen rekening is gehouden met leefstijl en voedingspatroon van de patiënten dat m.i. in dit verband wel degelijk een rol kan spelen. Want leefstijl en voedingspatroon heeft echt invloed op de progressiviteit van prostaatkanker. Zie ook onze lijst specifiek bij prostaatkanker)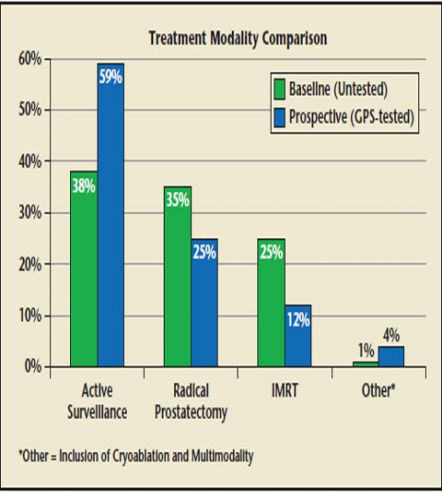 Kernpunten uit de GPS studie:
De resultaten vertoonden een breed scala van GPS scores binnen elke NCCN risicogroep en bevestigde dat de GPS score sterk gerelateerd was met een prostaatkanker-specifieke dood (P <.001) en metastasen - uitzaaiingen in een multivariabele analyse

(P <.001)

Patiënten in deze studie met een diagnsoe van een zeer lage, lage of middelgrote vorm van prostaatkanker en een GPS-resultaat van minder dan 20 ontwikkelden geen tumor uitzaaiende ziekte of overleden aan prostaatkanker na een radicale prostatectomie.
In deze studie: Health Economic Impact and Prospective Clinical Utility of Oncotype DX® Genomic Prostate Score , gratis in te zien, wordt uitstekend beschreven hoe de GPS test werkt en welke resultaten er uitkomen.
Van deze studie hier het abstract met uitgebreide referentielijst:
Oncotype DX Genomic Prostate Score (GPS) test is a strong independent predictor of prostate cancer-specific death and disease progression at 10 years in men with localized prostate cancer across all clinical risk groups.
Health Economic Impact and Prospective Clinical Utility of
Oncotype

DX

®

Genomic

Prostate

Score

.
Abstract
Prostate cancer (CaP) will be diagnosed in approximately 181,000 American men in 2016. Despite the high number of deaths from CaP in the United States, the disease has a protracted natural history and many men diagnosed with CaP will not die of the disease regardless of treatment. Unfortunately, identification of men with truly indolent/ nonaggressive CaP is challenging; limitations of conventional diagnostic modalities diminish the ability of physicians to accurately stage every case of CaP based on biopsy results alone. The resulting uncertainty in prognosis may prompt men with low-risk CaP to proceed to morbid and expensive treatments for an unclear survival benefit. Incorporation of the Genomic Prostate Score (GPS) as part of the decision algorithm for patients with National Comprehensive Cancer Network very low-risk and low-risk cancer led to a substantial increase in uptake of active surveillance and substantial cost savings. GPS provides physicians and patients with an additional tool in assessing personalized risk and helps guide individual decision making.
PMID:

27833462

PMCID:

DOI:

Identification of men with truly indolent/nonaggressive prostate cancer (CaP) is challenging; limitations of conventional diagnostic modalities diminish the ability of physicians to accurately stage every case of CaP based on biopsy results alone. The resulting uncertainty in prognosis may prompt men with low-risk CaP to proceed to morbid and expensive treatments for an unclear survival benefit.

The goal of the management of CaP is to screen, diagnose, and treat men based on the best available evidence for their individual risk and likelihood of benefit from treatment. With greater certainty regarding prognosis, men with CaP and their health care providers are able to make more confident decisions about the appropriateness of conservative management with active surveillance (AS) versus the advisability of immediate treatment.

Development of new techniques for identification of patients with truly indolent CaP is a public health priority. To be considered clinically useful, any new technique or intervention must demonstrate that it provides unique information not available with standard clinical parameters alone. One compelling approach for improving risk assessment in CaP is genomic testing. Genomic assays may be performed on serum, urine, or tissue samples to provide information about gene expression in various disease states.

Incorporation of the Genomic Prostate Score (GPS) as part of the decision algorithm for patients with very lowrisk and low-risk cancer led to substantial increase in uptake of AS and substantial cost savings. GPS provides physicians and patients with an additional tool in assessing personalized risk and helps guide individual decision making.

Conclusions

Incorporation of GPS as part of the decision algorithm for patients with NCCN very-low-risk and lowrisk cancer led to substantial increase in uptake of AS and substantial cost savings (average, $2286 per patient) for insurance carriers. Using the GPS list price of $4520, the $2286 savings represents a return on investment of over 50% ($2286/$4520) over 6 months. Further assessment of GPS in a larger pool of intermediate risk patients is needed to assess the potential impact on treatment planning. GPS provides physicians and patients with an additional tool in assessing personalized risk and helps guide individual decision making.

---

Articles from

Reviews in Urology

are provided here courtesy of

MedReviews, LLC
Gerelateerde artikelen