21 april 2017: Bron: AD en J Gastrointest Oncology
Het Algemeen Dagblad komt vandaag 21 april 2017 met een ervaringsverhaal van een Nederlandse man, Cas Renders die al in 2000 met HAIP - hepatic arterial infusion pump therapy is behandeld in het Memorial Sloan Kettering in New York.voor zijn in de lever uitgezaaaide darmkanker en in 2000 nog slechts een levensverwachting van drie maanden kreeg. En met succes want hij is nu 17 jaar later (hij is nu 54 jaar) nog steeds kankervrij. Een mooi ervaringsverhaal maar de manier van behandelen wordt al heel lang toegepast in Amerika.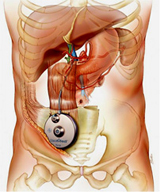 HAIP pomp
HAIP - hepatic arterial infusion pump therapy is al een oude techniek die vooral in Amerika veel wordt toegepast. Vooral bij primaire leverkanker maar ook bij operabele in de lever uitgezaaide darmkanker. In feite is dit TACE - chemo embolisatie zoals ook dr. Vogl die toepast maar omdat het pompje in de lever wordt geplaatst bij de operatieve verwijdering van de tumoren kan deze chemo embolisatie zonder extra belasting voor de patiënt om de twee weken worden uitgevoerd.
Bekijk deze video hoe HAIP wordt uitgevoerd: Treating Liver Metastases with Hepatic Arterial Infusion Therapy
Een uitstekende review studie over HAIP - hepatic arterial infusion pump therapy is deze studie: Hepatic resection, hepatic arterial infusion pump therapy, and genetic biomarkers in the management of hepatic metastases from colorectal cancer
In this review, we discuss surgical treatment and associated outcomes in the treatment of CRLM. In addition, the role and efficacy of HAI therapy are examined. Finally, we outline how genetic profiling and mutational analysis can impact management of this disease in this era of molecular-based targeted therapies. Abstract sataat hieronder met referentielijst.
Tekst gaat onder foto verder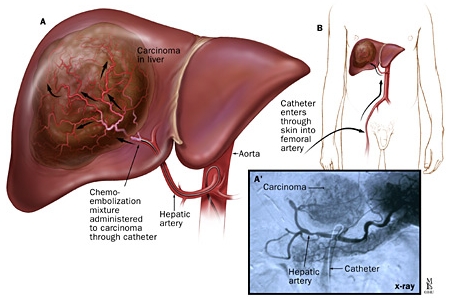 Foto: Werkingsmechanisme van HAIP therapy
Chirurg-oncoloog Bas Groot Koerkamp deed onderzoek naar de resultaten van HAIP bij 2000 Amderikaanse patienten en uiut zijn onderzoek blijkt dat mediaan de patienten 2 jaar langer leefden dan alleen met systemische chemo. Maar blijkbaar is dit bewijst niet voldoende om dit aan Nederlandse en belgische patienten aan te bieden want er komt nu eerst een gerandomiseerde placebo gecontroleerde fase III studie. Het is toch van de gekke dat na zoveel bewijs (google op HAIP - hepatic arterial infusion pump therapy en u vindt tientallen studies) er weer opnieuw een studie meot wroden gedaan. Trots wordt in het artikel in het AD vermeldt dat het KWF deze studie financiert. Wat een verspilling van tijd en geld tgen koste van kankerpatienten, wetende dat deze manier van behandelen spotgoedkoop is in vergelijking met de niewuere medicijnen en dat er nog weer een studie mee moet worden gedaan. SCHANDALIG
Hier een citaat uit het artikel in het Algemeen Dagblad d.d. 21 april 2017
Langer leven dankzij simpel chemopompje
Mensen met darmkanker en uitzaaiingen in de lever kunnen spectaculair langer leven door een speciale chemopomp. Dat blijkt uit onderzoek van het Erasmus MC onder Amerikaanse patiënten. Het apparaat komt nu naar Nederland.........
Cas Renders (54) uit Amsterdam is het levende bewijs. In 2000 – op zijn 38ste – gaven artsen hem 4 procent kans om te overleven ,,Of wel: over 3 maanden bent u er niet meer." Hij gaf niet op en kwam bij kankercentrum Sloan Kettering in New York terecht.

Daar plaatsen ze het pompje ter grootte van een ijshockeypuck net onder zijn huid en spuiten er om de twee weken chemovloeistof in, zes keer in totaal. Groot Koerkamp: ,,De pomp zit op de slagader en voert direct chemo de lever in. Omdat het ook alleen dáár blijft, kun je een heel hoge concentratie gebruiken." Bijkomend voordeel: de patiënt heeft nauwelijks last van bijwerkingen die horen bij chemokuren via een infuus, zoals misselijkheid en haarverlies. Lees het volledige artikel in het AD>>>>>>>>>>

Het volledige studierapport Hepatic resection, hepatic arterial infusion pump therapy, and genetic biomarkers in the management of hepatic metastases from colorectal cancer is gratis in te zien.

Hier het abstract met referentielijst
HAI chemotherapy has also evolved, and provides a unique and effective therapy both in the unresectable setting and as an adjuvant therapy following resection seemingly beyond that of systemic therapies alone.
Hepatic resection, hepatic arterial infusion pump therapy, and genetic biomarkers in the management of hepatic metastases from colorectal cancer
Gerelateerde artikelen