Mocht u de informatie op onze website kanker-actueel.nl waarderen dan wilt u ons misschien ondersteunen met een donatie?
Ons rekeningnummer is: RABO 37.29.31.138 t.n.v. Stichting Gezondheid Actueel in Terneuzen.

Onze IBANcode is NL79 RABO 0372 9311 38
Als donateur kunt u ook korting krijgen bij verschillende bedrijven. En we hebben een ANBI status


Zie ook in gerelateerde artikelen dit artikel:
https://kanker-actueel.nl/NL/vaccin-dcvaxr-brain-welke-succesvol-blijkt-tegen-hersentumoren-glioblastoma-nu-officieel-verkrijgbaar-in-zwitserland-adressen-van-ziekenhuizen-waar-trial-loopt-toegevoegd.html
9 juni 2021: Eindelijk is de fase III studie met het DC-vax vaccin voor hersentumoren gepubliceerd op ASCO 2021. Studieprotocol is dit: Study of a Drug [DCVax®-L] to Treat Newly Diagnosed GBM Brain Cancer (GBM)
Zie verder hieronder alles over deze studie.

3 september 2019: Met dank aan Arie die mij de nieuwe resultaten toestuurde van de fase III studie van dendritische celtherapie met het DC-VAX vaccin bij hersentumoren. Met weer betere en opvallende resultaten. En dan te bedenken dat Martin van de Bent ons idee van Utopie of Uitdaging niet zag zitten en bewust heeft tegen gewerkt. Waar vind je behandelingen voor glioblastomas waarvan patienten al langer dan 7 jaar leven. En niet 1 patient maar van de top 100 van de deelnemende patienten was de mediane overall overleving d.d. mei 2019 54 maanden met tientallen patienten die al langer dan 5 jaar leven zonder tekenen van een recidief. Voor alle duidelijkheid de mediane overall overleving voor hersentumoren met glioblastomas met standaard behandelingen van bestralen, operatie en chemo (temodal) is nog geen 12 maanden mediaan.
Klik op de link voor de nieuwste update van onderstaand beschreven studie Hier het laatste studierapport 28 mei 2019:
https://www.scribd.com/document/411229128/A-Dendritic-Cell-Cancer-Vaccine-Shines-Brighter-for-Glioblastoma-Patients is een vervolg op de vorige publicatie van mei 2018: First results on survival from a large Phase 3 clinical trial of an autologous dendritic cell vaccine in newly diagnosed glioblastoma
Zie ook verderop in dit artikel voor meer gegevens enz.
Hier studieprotocol en alle verdere gegevens. Studie staat nog steeds open in bepaalde ziekenhuizen
Interessant is ook de presentatie van Marnix Bosch op ASCO 2019 waarin hij uitlegt hoe de dendritische celtherapie met de DC-VAX vaccins werkzaam zijn.: klik op deze PDF voor de beelden erbij
Er zijn meerdere publicaties beschikbaar en er lopen meerdere trials met DC-Vax overigens, ook voor andere vormen van kanker:
Clinical Trials
DCVax®-L to Treat Newly Diagnosed GBM Brain Cancer (NCT00045968) - Phase III (Double Blind)
Expanded Access Protocol for GBM Patients with Already Manufactured DCVax®-L Who Have Screen-Failed Protocol 020221 (NCT02146066) (Expanded Access)
Safety and Efficacy Study of DCVax-Direct in Solid Tumors (NCT01882946) - Phase I/Phase II (Open Label)
UK Clinical Trials - Study of a Drug (DCVax®-L) to Treat Newly Diagnosed GBM Brain Cancer
EU Clinical Trials for DCVax-L - Phase III
Dendritic Cell Vaccine for Patients with Brain Tumors (NCT01204684) - Phase II - at UCLA - Randomized (Open Label) testing DCVaccine with Resiquimod and DC Vaccination with Adjuvant polyICLC
Dendritic Cell-Autologous Lung Tumor Vaccine (DCVax-L) and Nivolumab in Treating Patients with Recurrent Glioblastoma - Phase 2 (NCT03014804)
Announcement of DCVax-L and Anti-PD-1 Monoclonal Antibody (Pembrolizumab) for Patients with Liver Metastases of Primary Colorectal Carcinoma Phase 2 Trial - November 17, 2016 - University Medical Center (UMC) of the Johannes Gutenberg University of Mainz
Dendritic Cell Therapy for Brain Metastases From Breast or Lung Cancer (NCT0368765) - Phase 1 - Collaborator: Mayo Clinic
1 juni 2018: Lees ook dit artikel:
https://kanker-actueel.nl/vaccin-dcvaxr-brain-welke-succesvol-blijkt-tegen-hersentumoren-glioblastoma-nu-officieel-verkrijgbaar-in-zwitserland-adressen-van-ziekenhuizen-waar-trial-loopt-toegevoegd.html
1 juni 2018: Met dank aan Robert. Bron: Journal of Translational Medicine201816:142 Received: 27 April 2018 Accepted: 7 May 2018 Published: 29 May 2018
Immuuntherapie met het vaccin DCVax-L (autologe dendritische celtherapie) verlengt overall overleving met vele maanden tot soms 7 jaar van patiënten met een hersentumor glioblastoma multiforme.
Eindelijk lijkt er een doorbraak te zijn in het behandelen van een hersentumor type glioblastoma multiforme. En bevestigt deze fase III crossover studie ons uitgangspunt uit Utopie of Uitdaging dat immuuntherapie bij een hersentumor van het type glioblastoma multiforme al moet beginnen bij de eerste diagnose. Want een behandeling met immuuntherapie met het vaccin DCVax-L (autologe dendritische celtherapie) na operatie en samen met standaard bestraling en chemo (temozolomide - Temodal) voor patienten met een nieuwe diagnose blijkt de mediane overall overleving minimaal te verdubbelen van historisch mediaan 16 maanden tot mediaan 34 maanden met uitschieters van patienten die al 7 jaar kankervrij zijn.
In het studierapport dat werd gepubliceerd in het Journal of Translational Medicine hebben onderzoekers de resultaten gepubliceerd van totaal 331 glioblastoma-patiënten (90 procent kreeg uiteindelijk het vaccin tot nu toe). Alle patiënten kregen in eerste instantie de standaardzorg voor een glioblastoma multiforme, namelijk chirurgie / operatie gevolgd door zowel radiotherapie als chemotherapie met temodal. 232 patiënten kregen naast de standaard behandeling regelmatig injecties met DCax-L, het experimentele vaccin. De andere 99 patiënten (placebogroep) kregen een placebo i.p.v. het vaccin. Echter, alle patiënten die een recidief kregen tijdens de studieperiode kregen ook het DCVax-L vaccin. Op moment van opmaken van deze tussenresultaten had 90 procent van alle patiënten het DCVax gehad. Daarom zijn de resultaten hoewel spectaculair goed met mediaan 23 maanden (met patienten uit crossover meegenomen mediane OS 34 maanden) tot uitschieters van 7 jaar, niet statistisch significant. Terwijl de mediane overall overleving voor de standaardzorg ca. 16 maanden is.
Uit het studierapport:
Table 2
Study endpoints according to molecular genetic and clinical prognostic subgroups
Population

n

Median OS since surgery (months)a

Survival at 1 yearb

Survival at 2 yearsb

Survival at 3 yearsb

Overall

331

23.1

(21.2, 25.4)

89.3%

(85.4, 92.2)

46.2%

(40.4, 51.8)

25.4%

(19.9, 31.3)

MGMT methylated

131

34.7

(27.0, 40.7)

94.5%

(88.8, 97.3)

66.7%

(57.5, 74.4)

46.4%

(35.8, 56.3)

MGMT un-methylated

162

19.8

(17.9, 21.7)

86.4%

(80.0, 90.8)

32.1%

(24.5, 9.9)

11.0%

(5.7, 18.2)

Gross total resection

209

25.4

(21.8, 28.2)

91.8%

(87.1, 94.8)

51.2%

(43.9, 58.1)

29.9%

(22.6, 37.5)

Partial resection

122

21.1

(19.1, 23.1)

85.0%

(77.2, 90.2)

37.7%

(28.6, 46.7)

18.0%

(10.5, 27.1)

KPS at baseline ≥ 90

234

23.7

(21.8, 26.7)

94.0%

(90.0, 96.4)

49.2%

(42.3, 55.8)

26.6%

(19.9, 33.8)

KPS at baseline < 90

97

19.8

(16.6, 23.9)

77.8%

(68.0, 84.9)

38.8%

(28.5, 49.0)

22.1%

(13.4, 32.2)

ALC > 800

161

23.6

(21.7, 28.2)

89.9%

(84.0, 93.7)

49.5%

(41.1, 57.4)

28.7%

(20.6, 37.3)

ALC ≤ 800

170

21.6

(19.9, 25.2)

88.7%

(82.8, 92.6)

43.3%

(35.4, 50.9)

22.2%

(15.0, 30.3)

Age < 50 years

82

26.2

(21.1, 31.5)

92.5%

(84.2, 96.6)

51.7%

(39.9, 62.3)

28.0%

(16.4, 40.8)

Age ≥ 50 years

249

22.4

(20.4, 24.1)

88.2%

(83.5, 91.7)

44.4%

(37.7, 50.8)

24.6%

(18.5, 31.2)
Belangrijk om te vermelden is dat het verschil in overleving tussen patienten met wel en geen MGMT genen mutatie aanzienlijk was.
De MGMT gene promoter was gemuteerd bij 39.6% van de patiënten (n = 131) en niet gemuteerd bij 48.9% (n = 162), Voor 11.5% (n = 38) was er geen mutatie beschikbaar omdAt deze patienten eerder al waren gerekuteerd voor de MTGM meting standaard werd ingevoerd.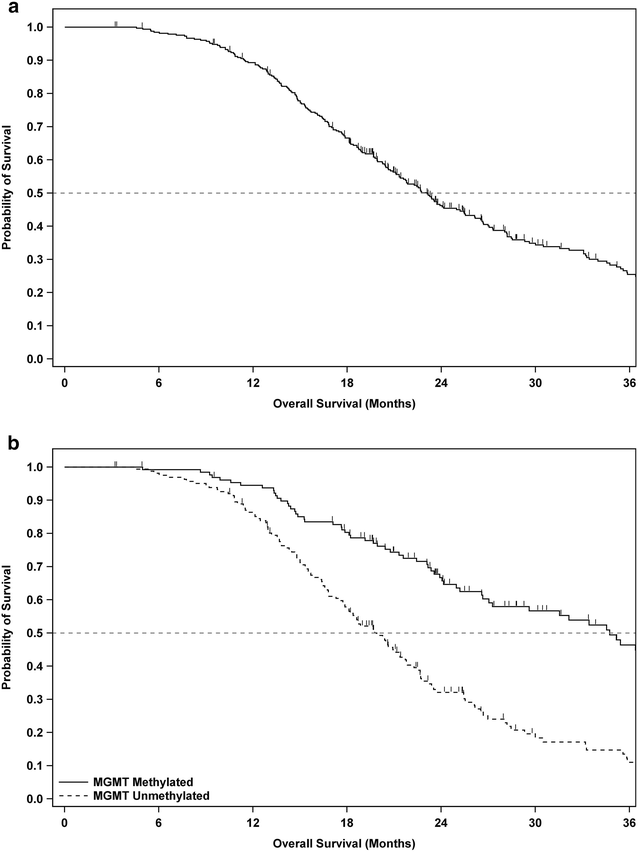 Al in 2011 kregen wij informatie over deze vorm van immuuntherapie (zie in gerelateerde artikelen) en nu 7 jaar later zijn de resultaten bekendgemaakt.
De studie is uitgevoerd op meer dan 80 locaties in 4 landen: de VS, Canada, Duitsland en het Verenigd Koninkrijk. De rekrutering van patiënten is in 2007 gestart en was om economische redenen tussen 2009 en 2011 onderbroken. De laatste patiënt werd ingeschreven in november 2015.
Conclusie: De resultaten toonden dus aan dat de behandeling veilig was, en patiënten die het vaccin kregen, leefden gemiddeld langer dan degenen die dat niet deden. Bijna 30 procent leefde gemiddeld 40,5 maanden na de operatie, en sommige overleven meer dan zeven jaar.
Het volledige studierapport: First results on survival from a large Phase 3 clinical trial of an autologous dendritic cell vaccine in newly diagnosed glioblastoma beschrijft to in detail hoe de studie is uitgevoerd.
Hier het abstract van de studie met referentielijst:
Addition of DCVax-L to standard therapy is feasible and safe in glioblastoma patients, and may extend survival.
Source:
Journal of Translational Medicine
2018
16:142
Received: 27 April 2018
Accepted: 7 May 2018
Published: 29 May 2018
First results on survival from a large Phase 3 clinical trial of an autologous dendritic cell vaccine in newly diagnosed glioblastoma
Linda M. LiauEmail author,
Keyoumars Ashkan,
David D. Tran,
Jian L. Campian,
John E. Trusheim,
Charles S. Cobbs,
Jason A. Heth,
Michael Salacz,
Sarah Taylor,
Stacy D. D'Andre,
Fabio M. Iwamoto,
Edward J. Dropcho,
Yaron A. Moshel,
Kevin A. Walter,
Clement P. Pillainayagam,
Robert Aiken,
Rekha Chaudhary,
Samuel A. Goldlust,
Daniela A. Bota,
Paul Duic,
Jai Grewal,
Heinrich Elinzano,
Steven A. Toms,
Kevin O. Lillehei,
Tom Mikkelsen,
Tobias Walpert,
Steven R. Abram,
Andrew J. Brenner,
Steven Brem,
Matthew G. Ewend,
Simon Khagi,
Jana Portnow,
Lyndon J. Kim,
William G. Loudon,
Reid C. Thompson,
David E. Avigan,
Karen L. Fink,
Francois J. Geoffroy,
Scott Lindhorst,
Jose Lutzky,
Andrew E. Sloan,
Gabriele Schackert,
Dietmar Krex,
Hans-Jorg Meisel,
Julian Wu,
Raphael P. Davis,
Christopher Duma,
Arnold B. Etame,
David Mathieu,
Santosh Kesari,
David Piccioni,
Manfred Westphal,
David S. Baskin,
Pamela Z. New,
Michel Lacroix,
Sven-Axel May,
Timothy J. Pluard,
Victor Tse,
Richard M. Green,
John L. Villano,
Michael Pearlman,
Kevin Petrecca,
Michael Schulder,
Lynne P. Taylor,
Anthony E. Maida,
Robert M. Prins,
Timothy F. Cloughesy,
Paul Mulholland and
Marnix L. BoschEmail authorView ORCID ID profile
Abstract
Background
Standard therapy for glioblastoma includes surgery, radiotherapy, and temozolomide. This Phase 3 trial evaluates the addition of an autologous tumor lysate-pulsed dendritic cell vaccine (DCVax®-L) to standard therapy for newly diagnosed glioblastoma.
Methods
After surgery and chemoradiotherapy, patients were randomized (2:1) to receive temozolomide plus DCVax-L (n = 232) or temozolomide and placebo (n = 99). Following recurrence, all patients were allowed to receive DCVax-L, without unblinding. The primary endpoint was progression free survival (PFS); the secondary endpoint was overall survival (OS).
Results
For the intent-to-treat (ITT) population (n = 331), median OS (mOS) was 23.1 months from surgery. Because of the cross-over trial design, nearly 90% of the ITT population received DCVax-L. For patients with methylated MGMT (n = 131), mOS was 34.7 months from surgery, with a 3-year survival of 46.4%. As of this analysis, 223 patients are ≥ 30 months past their surgery date; 67 of these (30.0%) have lived ≥ 30 months and have a Kaplan-Meier (KM)-derived mOS of 46.5 months. 182 patients are ≥ 36 months past surgery; 44 of these (24.2%) have lived ≥ 36 months and have a KM-derived mOS of 88.2 months. A population of extended survivors (n = 100) with mOS of 40.5 months, not explained by known prognostic factors, will be analyzed further. Only 2.1% of ITT patients (n = 7) had a grade 3 or 4 adverse event that was deemed at least possibly related to the vaccine. Overall adverse events with DCVax were comparable to standard therapy alone.
Gerelateerde artikelen