30 april 2019:
Een reviewstudie gepubliceerd december 2018 in Oncotarget: Green tea extract for prevention of prostate cancer progression in patients on active surveillance bewijst dat een groene thee extract van grote waarde kan zijn voor prostaatkankerpatiënten die op een wait-and-see programma zitten. Lees het studierapport.
Ook een nieuwe kleinschalige studie bewijst dat een groene thee extract de PSA kan doen dalen bij prostaatkankerpatienten. Omdat de studie met slechts 44 patienten (22 vs 22) gerandomiseerd werd uitgevoerd was het verschil niet statistisch significant. Hoewel in de groene thee groep de PSA waarden op 6 maanden en 12 maanden bij de patienten beduidend lager waren dan in de placebogroep.
Lees het volledige studierapport: Effect of green tea catechins in patients with high-grade prostatic intraepithelial neoplasia: Results of a short-term double-blind placebo controlled phase II clinical trial in PDF formaat.
30 april 2019: lees ook dit artikel:
https://kanker-actueel.nl/groene-thee-en-in-het-bijzonder-egcg-in-relatie-tot-gezondheid-en-ziekte-waaronder-kanker-een-review-van-arts-bioloog-drs-engelbert-valstar-aan-de-hand-van-de-literatuur.html
18 december 2017: lees ook dit artikel waaraan per 18 december 2017 resultaten uit een reviewstudie zijn toegevoegd:
https://kanker-actueel.nl/prostaatkanker-groene-thee-bewijst-opnieuw-therapeutische-waarde-voor-prostaatkanker-27-verschil-in-ontwikkelen-van-prostaatkanker-tussen-placebo-en-groene-thee-gebruik-in-gerandomiseerde-studie-bij-60-mannen-met-vergroot-riscio-op-prostaatkanker.html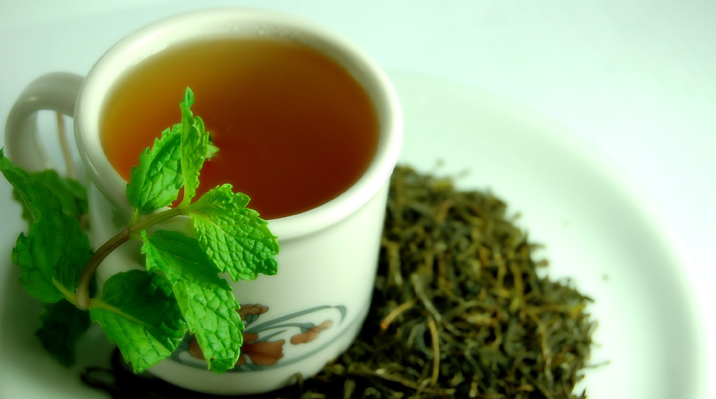 29 oktober 2012: Bron: Annual American Association for Cancer Research Frontiers in Cancer Prevention Research: Abstract B67. Presented October 18, 2012.
Groene thee remt groei prostaatkanker en kan mogelijk preventief worden ingezet. 4 tot 6 koppen groene thee per dag zou de groei van prostaatkanker kunnen remmen en wellicht stoppen, omdat het ontstekingsremmend werkt en apoptose - zelfdoding - van tumorcellen bevordert.
Dit blijkt uit een gerandomiseerde studie bij totaal 67 mannen. Opmerkelijk aan deze studie is dat al na 6 tot 8 weken de biomarkers van de mannen, o.a. PSA waarde, die groene thee dronken heel duidelijk positieve effecten lieten zien in vergelijking met de mannen uit de controlegroep. De studie werd uitgevoerd onder leiding van Susanne M. Henning, PhD, RD, aan de David Geffen School of Medicine aan de Universiteit van Californië, Los Angeles
In deze gerandomiseerde fase 2 studie werd de kankerremmende werking van groene thee onderzocht bij prostaatkankerpatiënten voorafgaand aan een operatie van aangetoonde prostaatkanker.
Van de 67 mannen die de studie voltooiden, waren er 34 mannen ingedeeld in een groep die 4 tot 6 kopjes zelfgemaakte groene thee per dag kregen te drinken en 33 mannen werden in een groep ingedeeld die
alleen water kregen te drinken gedurende 3 tot 8 weken voor een prostatectomie - operatieve verwijdering van de prostaat.
Hier een verklaring van hoe de studie werd uitgevoerd met de resultaten die denk ik alleen voor artsen en deskundigen te begrijpen is, maar toch maar hier vermeld:
Serum PSA-concentratie, prostaatweefsel PSA eiwitgehalte, en prostaat concentratie van groene thee polyfenolen en hun metabolieten werden tijdens de studieduur gemeten. Bovendien werd het effect van groene thee gemeten op oxidatieve en inflammatoire biomarkers (ontstekingsmarkers), inclusief eiwitexpressie van Ki67 (proliferatie), Bcl2, Bax (apoptose), nucleaire factor kappa B (NFKB) (ontsteking) in de studie evaluatie betrokken. Bioactieve groene thee catechines, die epigallocatechinegallaat (EGCG) en het methyl metaboliet 4'-O-methyl-EGCG en epicatechine gallate omvatten, werden gedetecteerd in het prostaat weefsel van 31 van 34 mannen uit de groene thee groep. In de groene thee groep, toonde immunokleuring aan dat intranucleaire NFKB waarden aanzienlijk waren afgenomen, maar er was
geen verandering in de cytoplasmatische NFKP kleuring in de prostaattumoren. De verhouding van cytoplasmatische kleuring van pro-apoptotische Bax aan Bcl-2 was significant hoger in de groene thee groep, maar cytoplasmatische Bcl2 en Bax vlekken waren niet veranderd. Er was geen verandering in nucleaire kleuring Ki67. Bij de mannen in de controlegroep waren er geen veranderingen in de PSA-waarden.
"Dit is een bewijs van de studie aanname .... De polyfenolen zijn tot in de prostaat doorgedrongen," zegt Dr Henning in een toelichting. In deze kleine, korte termijn studie werd geen remming van tumorgroei waargenomen. "Langere-termijn studies zijn nodig om het bewijs te leveren in preventieve zin," zegt dr. Henning.
Bij de deelnemers aan de studie die tot 6 kopjes groene thee per dag gedurende 2 maanden dronken, waren de PSA (serum prostaat-specifiek antigeen) niveaus significant lager dan ze waren bij het
begin van de studie (p <.01), eveneens was de expressie van het PSA eiwit in prostaatweefsel significant lager (P = .06). Bovendien werden veranderingen in andere biomarkers waargenomen.
"Onze studie toont aan dat het drinken van 4 tot 6 kopjes groene thee de biomarkers in prostaatweefsel duidelijk heeft beïnvloed op het moment van de operatie, dus aan het eind van de studieduur", aldus de onderzoekers. "Dit onderzoek biedt nieuwe inzichten in de mechanismen waarmee groene thee het risico op prostaatkanker kan verminderen door processen als ontstekingen, die worden geassocieerd met de groei van prostaatkanker, tegen te gaan," aldus dr. Henning
In vitro en andere experimentele studies hebben eerder aangetoond dat groene thee bescherming kan bieden tegen sommige kankers. Resultaten van epidemiologische studies hebben ook positieve resultaten
opgeleverd over het preventieve effect van groene thee voor specifiek prostaatkanker. Zo bleek ook in een Italiaans onderzoek, dat groene thee catechinen - polyfenonen het risico voor progressie van prostaatkanker reduceerde zonder significante negatieve effecten (Cancer Res 2006;. 66; 1234-1240).

Groene thee heeft mits goed gezet en de juiste groene verse thee gebruikt (zie in het boek Eten tegen Kanker hoe groene thee te maken en welke soorten het beste zijn) heeft een hoog gehalte van
polyfenolen, is gemakkelijk te maken en in te nemen en is op grote schaal beschikbaar. En er zijn al gegevens beschikbaar uit interventiestudies, dus zou groene thee een welkome aanvulling kunnen zijn bij preventie en misaschien zelfs bij behandeling van prostaatkanker. Zo stellen de onderzoekers. Al is nog meer specifiek gerandomiseerd onderzoek nodig.

De financiering voor dit onderzoek werd verstrekt door de National Institutes of Health. Dr Henning en Dr Hawk hebben meegedeeld geen relevante financiële belangen te hebben.
De studie resultaten werden bekend gemaakt op het Jaarlijkse American Association for Cancer Research Frontiers in Cancer Prevention Research congres: Abstract B67. Gepresenteerd 18 oktober 2012.
Het artikel waaruit ik bovenstaande samenvatting van heb gemaakt is een van de meest gelezen artikelen op de website van Medscape van afgelopen maand. Dit is wel heel opmerkelijk voor zo'n relatief kleine studie en dan ook nog naar de werking van een niet toxische stof. Wij weten al heel veel langer dat groene thee een uitstekend en goedkoop drankje is met bijzondere eigenschappen. Hopleijk dringt het nu ook eens door tot de oncologen en andere artsen.
Hier het abstract van een studie van dezelfde groep onderzoekers naar de effecten en verschillen van zowel zwarte thee als groene thee als preventie van progressie van prostaatkanker: Chemopreventive effects of tea in prostate cancer: green tea versus black tea, waar u op de website van Mol Nutr Food Res ook het volledige studierapport gratis in kunt zien. Met lange referentielijst
Chemopreventive effects of tea in prostate cancer: Green tea versus black tea
Chemopreventive effects of
tea

in prostate cancer:

green

tea

versus black

tea

.
Source
Center for Human Nutrition, David Geffen School of Medicine, University of California, Los Angeles, CA 90095, USA. shenning@mednet.ucla.edu
Abstract
The polyphenol compositions of green tea (GT) and black tea (BT) are very different due to post-harvest processing. GT contains higher concentrations of monomeric polyphenols, which affect numerous intracellular signaling pathways involved in prostate cancer (CaP) development. BT polymers, on the other hand, are poorly absorbed and are converted to phenolic acids by the colonic microflora. Therefore, after consumption of GT, higher concentrations of polyphenols are found in the circulation, whereas after BT consumption the phenolic acid levels in the circulation are higher. The majority of in vitro cell culture, in vivo animal, and clinical intervention studies examine the effects of extracts of GT or purified (-)-epigallocatechin-3-gallate (EGCG) on prostate carcinogenesis. These studies provide strong evidence supporting a chemopreventive effect of GT, but results from epidemiological studies of GT consumption are mixed. While the evidence for a chemopreventive effect of BT is much weaker than the body of evidence with regard to GT, there are several animal BT intervention studies demonstrating inhibition of CaP growth. This article will review in detail the available epidemiological and human clinical studies, as well as animal and basic mechanistic studies on GT and BT supporting a chemopreventive role in CaP.
Copyright © 2011 WILEY-VCH Verlag GmbH & Co. KGaA, Weinheim.
Gerelateerde artikelen