Zie ook in gerelateerde artikelen.

Raadpleeg ook literatuurlijst niet-toxische middelen en behandelingen specifiek bij eierstokkanker van arts-bioloog drs. Engelbert Valstar

31 juli 2023: In Jama zijn nieuwe studiegegevens van een van onderstaand besproken studies gepubliceerd (studieprotocol

NCT03709316). En deze nieuwe gegevens bevestigen wat dus al eerder werd gepubliceerd.

Ongeacht de kiemlijn BRCA-mutatiestatus bereikten patiënten met eerste diagnose van uitgezaaide eierstokkanker met niraparib - Zejul een veel betere ziekteprogressievrije tijd in vergelijking met een placebo , 8,3 maanden versus 24,8 maanden met een verminderd risico op overlijden van 55 procent.

Belangrijkste conclusie:


In the PRIME phase 3 randomized clinical trial of 384 patients with newly diagnosed advanced ovarian cancer after receiving first-line platinum-based chemotherapy, including those who underwent R0 resection at primary debulking surgery, treatment with niraparib with an individualized starting dose significantly extended progression-free survival vs placebo and reduced the risk of disease progression or death by 55%.

Zie verder hieronder meer details over deze studie of klik op de titel van laatst gepubliceerde studierapport, abstract staat verderop in artikel:

Treatment With Niraparib Maintenance Therapy in Patients With Newly Diagnosed Advanced Ovarian CancerA Phase 3 Randomized Clinical Trial

7 december 2021: Bron: virtueel COSA 2021

Uit een samengestelde analyse van verschillende fase III studies is definitief aangetoond dat een onderhoudsbehandeling met de parpremmer niraparib - Zejul leidt tot een veel langere progressievrije overleving bij patiënten met BRCA-gemuteerde eierstokkanker. Maar ook bij patiënten met niet BRCA-gemuteerde eierstokkanker was er een behoorlijk langere overleving te zien. En ook belangrijk zonder extra bijwerkingen.
Of nu het zorginstituut nu hun advies tot niraparib - Zejul opnemen in de basisverzekering en gaat vergoeden moet blijken. De resultaten zijn in ieder geval heel robuust en statistisch significant.

Deze uitkomst van een samenvatting van de werkzaamheid en veiligheid in de fase 3, gerandomiseerde, dubbelblinde, placebo gecontroleerde, multicenter studies PRIMA studie, NOVA studie en NORA studies werden gepresenteerd tijdens de virtuele 48e jaarlijkse wetenschappelijke bijeenkomst van de Clinical Oncology Society of Australia (COSA ), van 16 – 18 november 2021.

Patiënten opgenomen in de PRIMA studie hadden nieuw gediagnosticeerde gevorderde eierstokkanker. Alle vertoonden stadium 3/4, hooggradige, sereuze of endometrioïde tumoren en hadden eerder een volledige of gedeeltelijke respons gezien op eerstelijns platina-gebaseerde chemotherapie. Subgroepanalyse op basis van tumor BRCA-mutatiestatus was vooraf gespecificeerd.

Patiënten in de NOVA studie en de NORA studie hadden platinagevoelige, hooggradige, sereuze eierstokkanker. Ze hadden ten minste twee kuren met op platina gebaseerde chemotherapie gekregen. Subgroepanalyse naar kiemlijn BRCA-mutatiestatus was vooraf gespecificeerd in beide onderzoeken. Het primaire eindpunt in alle drie de onderzoeken was progressievrije overleving zoals bepaald door middel van een geblindeerde onafhankelijke centrale beoordeling.

Verdeeld over de drie genoemde studies was dit de verdeling in wel of niet BRCA gemuteerd:
PRIMA: N=223 (n=148 BRCA1-mutated, n=75 BRCA2-mutated)

NOVA: N=203 (n=128 BRCA1-mutated, n=69 BRCA2-mutated, n=13 BRCA1- and BRCA2-mutated)

NORA: N=100 (n=78 BRCA1-mutated, n=21 BRCA2-mutated, n=1 BRCA1- and BRCA2-mutated)

De meest voorkomende tijdens de behandeling optredende bijwerkingen waren trombocytopenie, anemie - bloedarmoede, neutropenie en hypertensie - verhoogde bloeddruk in alle drie de onderzoeken.

Resultaten uit de NOVA studie: zie dit studieverslag op de website van de producent.

Met aangetoonde BRCA mutatie versus placebo :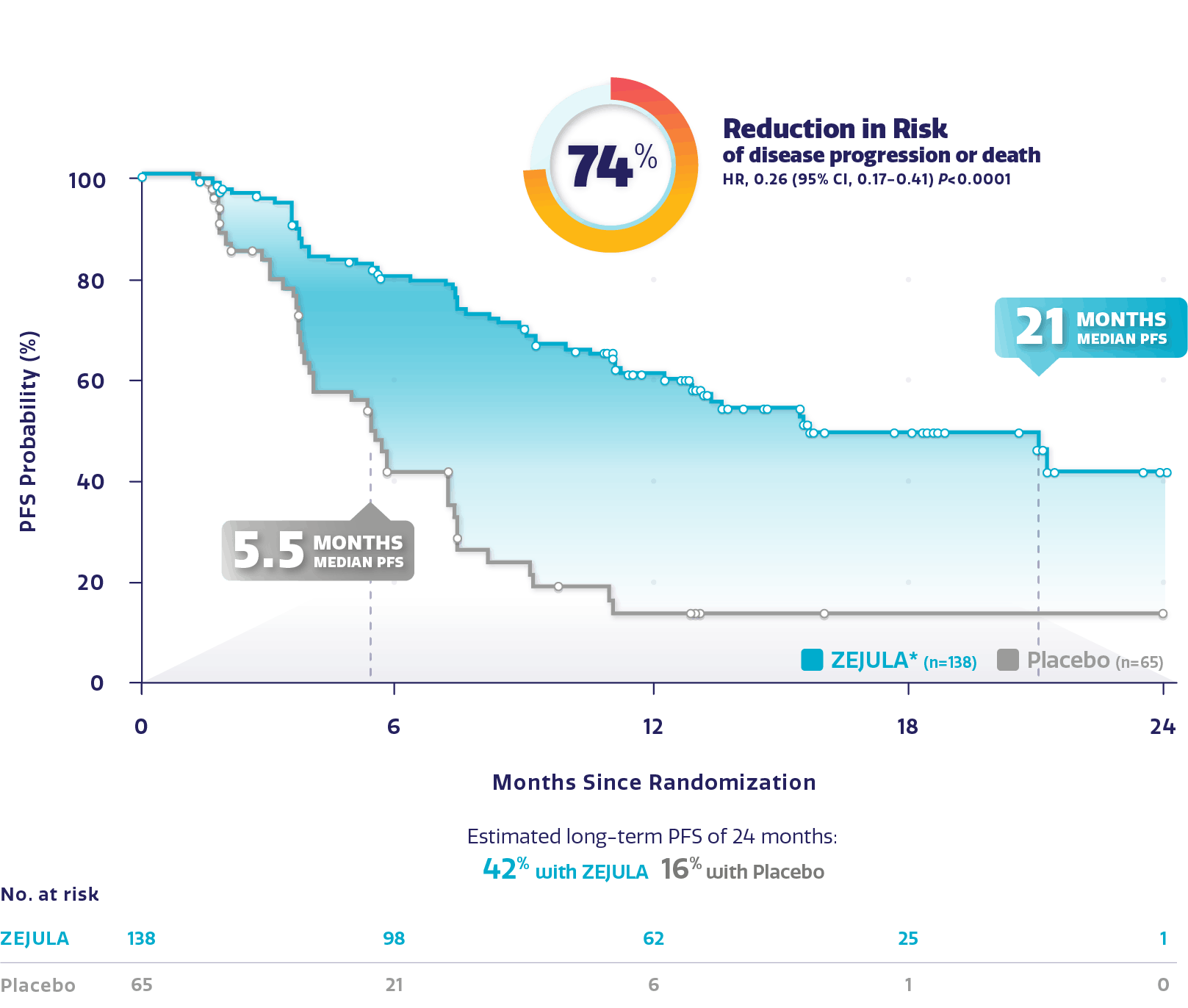 Met BRCA wild type dus geen aangetoonde BRCA mutatie versus placebo: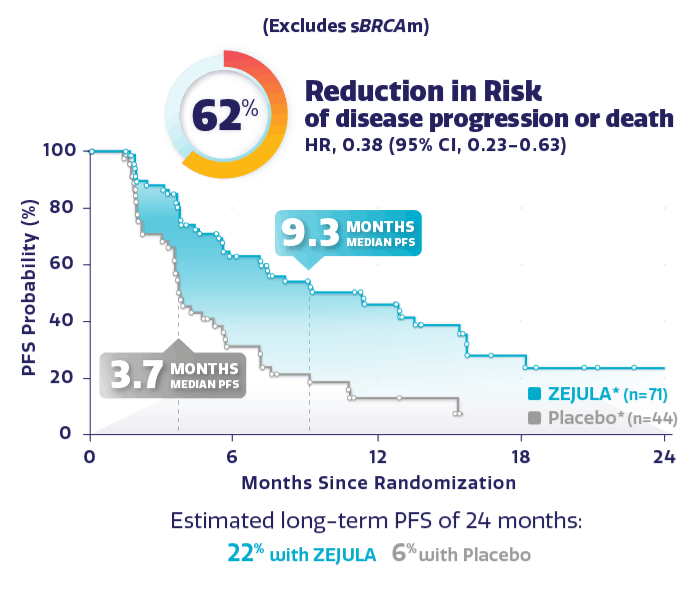 Resultaten uit de PRIMA studie waarin eierstokkankerpatiënten met vergevorderde ziekte waren opgenomen ongeacht hun mutatiestatus zijn ook op de website van de producent te vinden: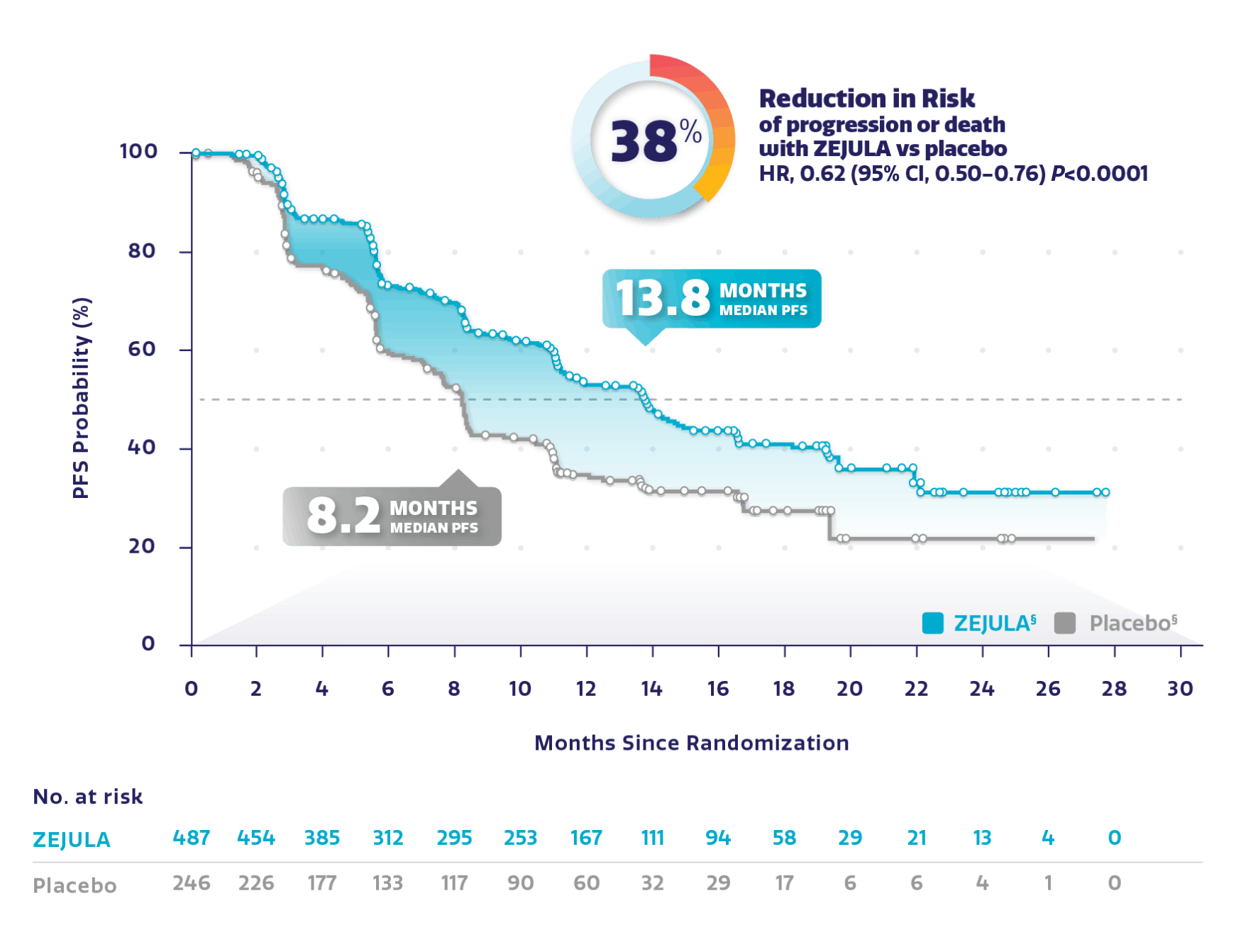 Voor de Nora studie zie deze publicatie met daaronder gerelateerde artikelen:


Abstract
Background: This study evaluated maintenance treatment with niraparib, a potent inhibitor of poly(ADP-ribose) polymerase 1/2, in patients with platinum-sensitive recurrent ovarian cancer.
Patients and methods: In this phase III, double-blind, placebo-controlled study conducted at 30 centers in China, adults with platinum-sensitive recurrent ovarian cancer who had responded to their most recent platinum-containing chemotherapy were randomized 2 : 1 to receive oral niraparib (300 mg/day) or matched placebo until disease progression or unacceptable toxicity (NCT03705156). Following a protocol amendment, patients with a bodyweight <77 kg or a platelet count <150 × 103/μl received 200 mg/day, and all other patients 300 mg/day, as an individualized starting dose (ISD). Randomization was carried out by an interactive web response system and stratified by BRCA mutation, time to recurrence following penultimate chemotherapy, and response to most recent chemotherapy. The primary endpoint was progression-free survival (PFS) assessed by blinded independent central review.
Results: Between 26 September 2017 and 2 February 2019, 265 patients were randomized to receive niraparib (n = 177) or placebo (n = 88); 249 patients received an ISD (300 mg, n = 14; 200 mg, n = 235) as per protocol. In the intention-to-treat population, median PFS was significantly longer for patients receiving niraparib versus placebo: 18.3 [95% confidence interval (CI), 10.9-not evaluable] versus 5.4 (95% CI, 3.7-5.7) months [hazard ratio (HR) = 0.32; 95% CI, 0.23-0.45; P < 0.0001], and a similar PFS benefit was observed in patients receiving an ISD, regardless of BRCA mutation status. Grade ≥3 treatment-emergent adverse events occurred in 50.8% and 19.3% of patients who received niraparib and placebo, respectively; the most common events were neutrophil count decreased (20.3% versus 8.0%) and anemia (14.7% versus 2.3%).
Conclusions: Niraparib maintenance treatment reduced the risk of disease progression or death by 68% and prolonged PFS compared to placebo in patients with platinum-sensitive recurrent ovarian cancer. Individualized niraparib dosing is effective and safe and should be considered standard practice in this setting.
Keywords: maintenance therapy; niraparib; ovarian cancer.
Conflict of interest statement
Disclosure MRM has received fees for serving on advisory boards from Tesaro, GSK, Clovis Oncology, AstraZeneca, and Zai Lab and speaker fees from AstraZeneca, Tesaro, GSK, Zai Lab, and Roche. The other authors have declared no conflicts of interest. Data sharing From the publication date, upon reasonable request to the corresponding author (researchers who provide a methodologically sound proposal and assuming use of the data to meet the goals of this proposal), individual participant data that underlie the results reported in this article (text, tables, and figures) can be made available after de-identification. The study protocol can also be made available with reasonable request.
niraparib maintenance therapy prolonged PFS in patients with newly diagnosed advanced Ovarian Cancer regardless of postoperative residual disease or biomarker status. The ISD was effective and safe in the first-line maintenance setting.
Gerelateerde artikelen