3 mei 2021: Resultaten uit een nieuwe recente studie, gepubliceerd 15 maart 2021, tonen aan dat protonenbestraling op de langetermijn een voordeel kan hebben voor prostaatkankerpatiënten. Bij patiënten met lagere Gleasonscores (laag risico patiënten) bleek 100 procent effectiviteit op voorkomen van recidief of PSA stijging. En belangrijk de bijwerkingen op incontinentie en impotentie waren heel klein. Ook bij hoog risico patiënten. Zelfs bij de patiënten uit de hoogste risicogroep was de 10-jaars progressievrije overall overleving 63 procent.

De mediane follow-up periode van de studie bij totaal 2021 patiënten in 1 ziekenhuis over de periode 2003 tot 2014 was 84 maanden (interkwartielbereik, 60-110 maanden). De 5- en 10-jaars afwezigheid van biochemische terugvalpercentages (progressie op de PSA en aantoonbare recidieven) waren 100% en 100%, 99% en 88%, 93% en 86%, 90% en 79%, 88% en 68%, en 76% en 63% voor respectievelijk de zeer lage, lage, gunstige midden-, ongunstige midden-, hoge en zeer hoge risicogroepen.

Zie dit abstract van het studierapport door te klikken op de titel. Abstract zelf staat onderaan dit artikel.:


20 september 2017: lees ook deze artikelen:
https://kanker-actueel.nl/NL/protonenbestraling-geeft-hele-goede-resultaten-op-5-jaars-overleving-15-procent-en-ziektevrije-tijd-9-procent-bij-prostaatkankerpatienten-in-vergelijking-met-fotonen-imrt-bestraling.html
en deze:
https://kanker-actueel.nl/NL/protonenbestraling-wordt-in-amerika-steeds-vaker-toegepast-en-ook-vergoed-astro-publiceert-nieuwe-richtlijnen-voor-gebruikvan-protonenbestraling.html
20 september 2017: Bron: Cancer Medicine
Protonenbestraling voor prostaatkankerpatiënten met lokale vorm van kanker bij de diagnose, dus nog niet zichtbaar uitgezaaid in de botten bv is superieur aan andere vormen van bestralen met een 100 procent 5 jaars overleving gerelateerd aan de kanker zelf en minder bijwerkingen op zowel korte als lange termijn.
Via Jos die een mailtje had gekregen waarin werd verteld door iemand die nauw is betrokken bij de bouw van protonencentra in Nederland dat protonenbestraling in Nederland nog lang geen behandelingsoptie zal kunnen zijn kreeg ik deze studie toegestuurd. Waarom niet in Nederland? Simpelweg omdat Nederland nog geen protonencentra heeft. Ook vertelde deze man dat protonenbestraling weinig of geen verschil zal maken voor prostaatkankerpatienten en dat slechts enkelen in aanmerking zullen komen hiervoor. Hij antwoordde op basis van deze studie: Long-term outcomes in patients treated with proton therapy for localized prostate cancer gepubliceerd 7 september in Cancer Medicine die de prostaatkankervereniging hem hadden toegestuurd.
Maar m.i. is dit antwoord van deze arts / oncoloog het zoveelste bewijs dat Nederland bijzonder patiënt onvriendelijk is binnen de oncologie. De enige reden dat prostaatkankerpatiënten geen protonenbestraling krijgen aangeboden is omdat er domweg geen capaciteit is in Nederland en België. En verwijzingen naar Duitsland krijgen alleen kinderen en jong volwassenen. Zeg dat dan, maar niet dat het geen geode behandleingsoptie is. Want zowel de overall overleving gerelateerd aan prostaatkanker zelf en het bijwerkingenprofiel zijn duidelijk nog beter met protonenbestraling dan met de meest gebruikte IMRT bestraling (intensity-modulated radiation therapy).
De mediane follow-up periode van deze studie uitgevoerd in de periode tussen 2001 en 2014 bij 1375 patiënten met de diagnose van prsotaatkanker was 70 maanden (range, 4–145 maanden). In totaal, 99% vn de patiënten ontving 74 Gy; 56% van de patiënten kreeg vooraf hormoontherapie. Voor de lage-, gemiddlede-, hoge-, en extreem hoge risico patiënt was de 5-jaars progressievrije tijd (FFBR = geen stijging van PSA) was 99% (95% confidence intervals , 96–100%), 91% (95% CI, 88–93%), 86% (95% CI, 82–89%), en 66% (95% CI, 53–76%), respectievelijk, en de 5-jaars kanker gerelateerde overall overleving (CSS) was 100% (95% CI, 100–100%), 100% (95% CI, 100–100%) , 99% (95% CI, 97–100%), en 95% (95% CI, 94–98%), respectievelijk.
Heironder de overall overlevingsgrafiek uit bovengenoemde studie, waarvan het studieverslag: Long-term outcomes in patients treated with proton therapy for localized prostate cancer gratis is in te zien met nog veel meer grafieken.
Het abstract van de studie staat onderaan grafiek: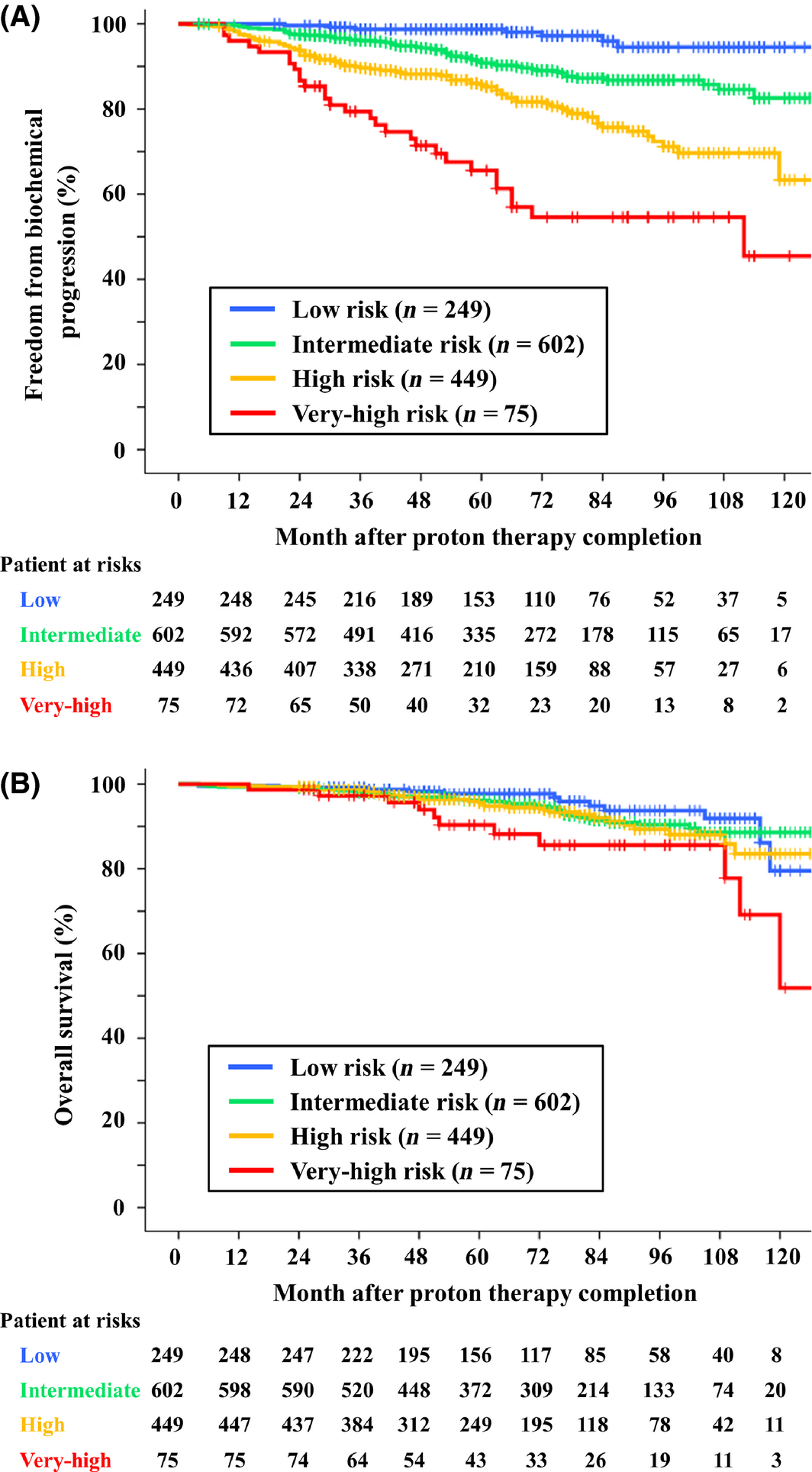 Our results demonstrate that the biochemical control of Proton Therapy is favorable particularly for high- and very high-risk patients with prostate cancer and with lower late genitourinary toxicity and indicates the necessity of considering patient age in the treatment protocols.
Original Research
Long-term outcomes in patients treated with proton therapy for localized prostate cancer
This study demonstrates the favorable biochemical controls of proton therapy even in advanced localized prostate cancer patients with a low incidence of late toxicities, supporting the feasibility of conducting prospective clinical trials.
Proton Therapy for Localized Prostate Cancer: Long-Term Results From a Single-Center Experience
This study will be presented at the 62nd annual meeting of the American Society for Radiation Oncology (ASTRO), October 25-28, 2020, Miami, Florida.
Gerelateerde artikelen