Als u onze informatie op prijs stelt wordt dan donateur of ondersteun ons met een eenmalig bedrag op
rekeningnummer NL79 RABO 0372 9311 38 t.n.v. Stichting Gezondheid Actueel in Terneuzen. En als donateur kunt u korting krijgen bij verschillende bedrijven.

24 april 2019: Bronnen: You Tube, prof. dr. Thomas Seyfried, Met dank aan /Arthur die mij hierop wees.
6-Diazo-5-oxo-L-norleucine (DON) blokkeert de glutamine opname van een kankercel en samen met de effecten van een dieet gebaseerd op het kytogene dieet sterven daarmee kwaadaardige tumorcellen door uithongering.
Otto Warburg wordt altijd genoemd als grondlegger van de theorie dat veel kanker te voorkomen c.q. te genezen zou zijn met voeding en bepaalde voedingssupplementen. Eigenlijk zijn alle diëten op Warburg zijn theorie gebaseerd. Arthur wees me op een interview met prof. dr. Thomas Seyfried op You Tube. Seyfried bouwt verder op de theorie van Warburg, weerlegt ook bepaalde aannames, maar breidt dat ook uit met het metabolische proces op de kankerstamcellen / genafwijkingen en op de mutaties die ontstaan bij kanker en in de loop der jaren bekend zijn geworden.
Het interview op You Tube is ook naar aanleiding van prof. dr. Seyfried zijn boek:
Cancer as a Metabolic Disease: On the Origin, Management, and Prevention of Cancer 1st Edition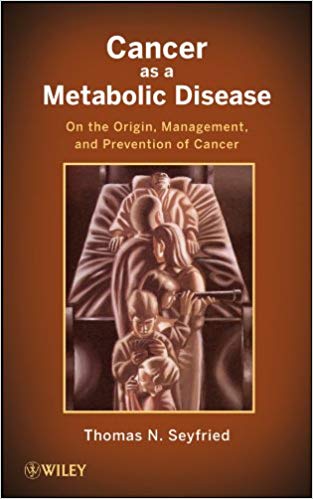 en van recentere publicaties hoe bv. hersentumoren reageren op voedingstoffen en voedingssuppletie (zie referenties onderaan dit artikel).
Het boek behandelt controverses met betrekking tot de oorsprong van kanker en biedt oplossingen voor kankercontrole en kankerpreventie. Het boek behandelt de bekende theorie van Otto Warburg dat alle kanker een ziekte van energiemetabolisme is en gaat daarin nog een stap verder. Omdat Warburg zijn theorie niet koppelde aan de 'genetische kenmerken van kanker'. Dit boek is bedoeld om via casestudies aan te tonen dat kanker in de eerste plaats een stofwisselingsziekte is die metabole oplossingen vereist voor de controle / genezing en de preventie ervan.
Casuïstiek van hersentumoren wordt gepresenteerd als een bewijs van het principe voor metabole oplossingen voor ziektecontrole, maar overeenkomsten worden ook aangetroffen met andere vormen van kanker, waaronder borstkanker en darmkanker, vanwege dezelfde cellulaire mutaties die deze laten zien.
In dat interview op You tube gaat prof. dr. Seyfried vooral in op het uithongeren van kankercellen met een dieet gebaseerd op het ketogene dieet en een glutomine blokkade. Algemeen wordt verondersteld dat kankercellen veel glucose / energie gebruiken maar ook wordt vaak een tweede belangrijke brandstof glutomine genoemd. Door bij een kytogeen dieet een bepaalde stof 6-Diazo-5-oxo-L-norleucine (DON) erbij te nemen beweert prof. dr. Seyfried dat met name glutomine geblokkeerd waardoor de tumorcel als het ware uitgehongerd wordt.
Nadat Arthur me hierop heeft gewezen heb ik eerst advies gevraagd aan arts-bioloog drs. Enlgelbert Valstar maar die vond het een te commercieel praatje. Terwijl er op Wikipedia echt interessante informatie over 6-Diazo-5-oxo-L-norleucine (DON) te vinden is. En het product was eerder hier te koop bij Merck de leverancier / producent: https://www.sigmaaldrich.com/catalog/product/sial/33515?lang=en&region=NL maar is inmiddels uit productie genomen.
Ik ben ook eens in pubmed gedoken en Arthur stuurde me ook een studierapport over het gebruik van 6-Diazo-5-oxo-L-norleucine bij longkankerpatienten en dat ziet er toch wel interessant uit vind ik.
Het studierapport: Glutamine Addiction and Therapeutic Strategies in Lung Cancer is gratis in te zien.
Het is wel een medisch technisch studierapport maar artsen en wetenschappers kunnen hier wel mee uit de voeten denk ik. Abstract staat onderaan dit artikel met refenrentielijst
Hier een grafiek uit dat studierapport van het metabolische proces waarin glutamine een cruciale rol speelt:
Hieronder het abstract van laatst genoemde studie plus referentielijst.
Dit zijn de referenties die horen bij informatie van prof. dr. Seyfried:
Chinopoulos, Christos, and Thomas N. Seyfried. "Mitochondrial Substrate-Level Phosphorylation as Energy Source for Glioblastoma: Review and Hypothesis." ASN Neuro, Jan. 2018, doi:10.1177/1759091418818261.
Elsakka, A.M.A., Bary, M.A., Abdelzaher, E., Elnaggar, M., Kalamian, M., Mukherjee, P., Seyfried, T.N., 2018. Management of Glioblastoma Multiforme in a Patient Treated With Ketogenic Metabolic Therapy and Modified Standard of Care: A 24-Month Follow-Up. Front Nutr 5, 20. https://doi.org/10.3389/fnut.2018.00020
Seyfried, T.N., Yu, G., Maroon, J.C., D'Agostino, D.P., 2017. Press-pulse: a novel therapeutic strategy for the metabolic management of cancer. Nutrition & Metabolism 14, 19. https://doi.org/10.1186/s12986-017-0178-2
In this review, we explore the role of glutamine metabolism in lung cancer. Because lung cancer is the leading cause of cancer death with limited curative treatment options, we focus on the potential therapeutic approaches targeting the glutamine metabolism in cancer.
Glutamine Addiction and Therapeutic Strategies in Lung Cancer
Abstract
Lung cancer cells are well-documented to rewire their metabolism and energy production networks to support rapid survival and proliferation. This metabolic reorganization has been recognized as a hallmark of cancer. The increased uptake of glucose and the increased activity of the glycolytic pathway have been extensively described. However, over the past years, increasing evidence has shown that lung cancer cells also require glutamine to fulfill their metabolic needs. As a nitrogen source, glutamine contributes directly (or indirectly upon conversion to glutamate) to many anabolic processes in cancer, such as the biosynthesis of amino acids, nucleobases, and hexosamines. It plays also an important role in the redox homeostasis, and last but not least, upon conversion to α-ketoglutarate, glutamine is an energy and anaplerotic carbon source that replenishes tricarboxylic acid cycle intermediates. The latter is generally indicated as glutaminolysis. In this review, we explore the role of glutamine metabolism in lung cancer. Because lung cancer is the leading cause of cancer death with limited curative treatment options, we focus on the potential therapeutic approaches targeting the glutamine metabolism in cancer.
Acknowledgments
This study is part of the Limburg Clinical Research Program (LCRP) UHasselt-ZOL-Jessa, which is supported by the foundation Limburg Sterk Merk, Province of Limburg, Flemish government, Hasselt University, Ziekenhuis Oost-Limburg, and Jessa Hospital. We would like to thank Erwin Vanherck for the graphic design (info@hethuisvandemeester.be).
Author Contributions
K.V. has contributed in writing the manuscript. G.-J.G., L.M., M.T., E.D., J.P.N., W.G. and P.A. have all contributed in the supervision (grammatical and content) of the manuscript. All authors read and approved the final manuscript.
Funding
This research received no external funding.
Conflicts of Interest
The authors declare no conflict of interest.
---
Articles from
International Journal of Molecular Sciences
are provided here courtesy of
Multidisciplinary Digital Publishing Institute (MDPI)
Gerelateerde artikelen