Mocht u kanker-actueel de moeite waard vinden en ons willen ondersteunen om kanker-actueel online te houden dan kunt u ons machtigen voor een periodieke donatie via donaties: https://kanker-actueel.nl/NL/donaties.html of doneer al of niet anoniem op - rekeningnummer NL79 RABO 0372931138 t.n.v. Stichting Gezondheid Actueel in Amersfoort. Onze IBANcode is NL79 RABO 0372 9311 38
Elk bedrag is welkom. En we zijn een ANBI instelling dus uw donatie of gift is in principe aftrekbaar voor de belasting.

En als donateur kunt u ook korting krijgen bij verschillende bedrijven:
https://kanker-actueel.nl/NL/voordelen-van-ops-lidmaatschap-op-een-rijtje-gezet-inclusief-hoe-het-kookboek-en-de-recepten-op-basis-van-uitgangspunten-van-houtsmullerdieet-te-downloaden-enof-in-te-zien.html
29 maart 2016: Bron: Radiat Oncol. 2016; 11: 21. Published online 2016 Feb 11. doi:10.1186/s13014-016-0588-8
Enkele jaren geleden zijn ze in Rotterdam begonnen om een soort van halsband (HYPERcollar) te maken die de dieper liggende tumoren in mond en hals verwarmt (hyperthermie) tijdens bv. bestralen of toediening van chemo: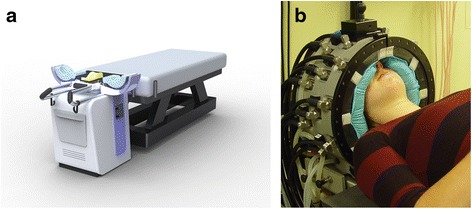 Nu is er dan een eerste publicatie: status quo and directions in deep head and neck hyperthermia
over de resultaten met deze vorm van hyperthermie waarbij de HYPERcollar verbeterd is met een 3D. Een publicatie die grotendeels gaat over hoe ze de temperatuur zo hoog mogelijk kunnen krijgen en houden, maar toch ook een klein stukje over de eerste resultaten met de eerste groep patienten:
In 2014, we analyzed the treatments of the subgroup of patients with tumors that are considered to be in the traditional H&N regions (27 patients and in total 119 treatments of one hour). The target was the CTV of RT and the median CTV size was 63.5 ml. Delivery of power occasionally beyond 1 kW and estimated SAR levels (according to [36]) of on average 72.6 W/kg did not lead to achieving 43 °C. In the 16 patients where interstitial thermometry could be applied, we measured target temperatures up to 38.1–42.3 °C. Hence SAR levels up to four-fold of the SAR delivered in the pelvic region (~16 W/kg) still in cases produced unsatisfactory temperatures, which is a strong indication of the tremendous thermoregulatory response in the H&N region as compared to other regions. Excluding the three patients that were treated in a post-operative setting, a response rate of 53 % was obtained [54]. This response is very promising considering the learning curve and the fact that this was a very unfavorable patient group, i.e. 33 % locally advanced and 67 % re-irradiation. Importantly, no severe complications or enhanced thermal or mucosal toxicities were observed.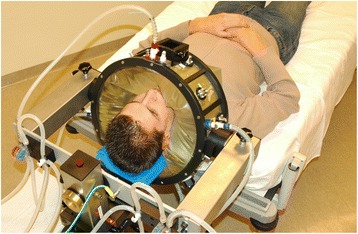 Een aantal jaren geleden heb ik een voorlichtingsfilm gemaakt over verschillende vormen van hyperthermie, weaaronder het hyperthermie systeem met antennes in de Daniel den Hoed en interviews met o.a. dr. Coby van der Zee. De grondlegster van de hyperthermie in Rotterdam. Coby heeft de film ook goedgekeurd en was enthousiast, maar de directie van het Erasmus Medisch Centrum heeft de publicatie van de film alsnog verboden omdat de andere vormen van hyperthermie, o.a. gefilmd bij dr. Robert Gorter er beter uitkwamen in de film. Helaas heb ik dus nooit die film mogen publiceren.
Inmiddels heeft het Erasmus Medisch Centrum gebroken met BSD, die het monopolie hadden op de hyperthermie apparatuur in Nederland (ook in Waalwijk / Tilburg en AMC Amsterdam). Ik moet zeggen dat ik niet begrijp waarom ze in Nederland stug doorgaan met deze ingewikkelde hyperthermie systemen terwijl de electro hyperthermie apparatuur al jarenlang bewijst goede resultaten te geven, ook op dieper liggende tumoren. Apparatuur die te koop is voor zeg € 200.000,--. En een vorm van hyperthermie die weinig tot niet belastend is voor de patiënten en zelfs ook kan worden toegepast voor hersentumoren.

bij patienten echt in het laatste stadium van hun ziekte en waarvan van de 8 patienten er zelfs nog 1 klinisch kankervrij werd.
met deze conclusie: This report with 5-year follow-up confirms the efficacy and the absence of severe toxicity of the combination of radical radiation and hyperthermia in the treatment of metastatic lymph nodes in Stage IV squamous cell carcinoma of the head and neck
Maar goed ik ben geen arts, noch onderzoeker. Ik vind het wel jammer en echt verspilling van kennis, tijd en geld dat dit zo gaat.

Hier het abstract van de studie met de HYPERcollar:
The HYPERcollar redesign improves water bolus shape, stability and skin contact. The renewed positioning strategy allows for positioning of the patient within the required precision of ±5 mm. By clinically introducing the new design, we aim at improving not only treatment quality and reproducibility, but also patient comfort and operator handling, which are all important for a better hyperthermia treatment quality
Radiat Oncol. 2016; 11: 21.
Status quo and directions in deep head and neck hyperthermia
Abstract
The benefit of hyperthermia as a potent modifier of radiotherapy has been well established and more recently also the combination with chemotherapy was shown beneficial. Also for head and neck cancer, the impact of hyperthermia has been clinically demonstrated by a number of clinical trials. Unfortunately, the technology applied in these studies provided only limited thermal dose control, and the devices used only allowed treatment of target regions close to the skin. Over the last decade, we developed the technology for deep and controlled hyperthermia that allows treatment of the entire head and neck region. Our strategy involves focused microwave heating combined with 3D patient-specific electromagnetic and thermal simulations for conformal, reproducible and adaptive hyperthermia application. Validation of our strategy has been performed by 3D thermal dose assessment based on invasively placed temperature sensors combined with the 3D patient specific simulations. In this paper, we review the phase III clinical evidence for hyperthermia in head and neck tumors, as well as the heating and dosimetry technology applied in these studies. Next, we describe the development, clinical implementation and validation of 3D guided deep hyperthermia with the HYPERcollar, and its second generation, i.e. the HYPERcollar3D. Lastly, we discuss early clinical results and provide an outlook for this technology.
References
Gerelateerde artikelen