Helpt u ons aan 500 donateurs om kanker-actueel online te houden?
30 mei 2018: ASCO 2018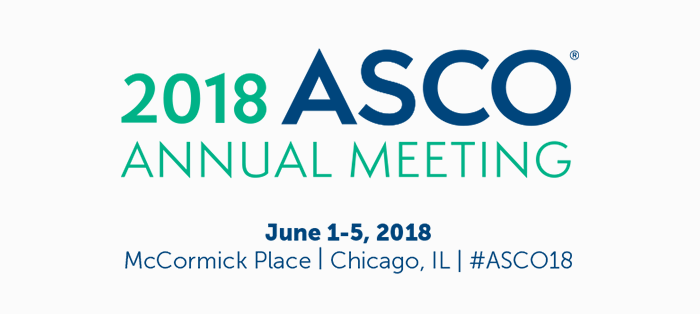 A.s. weekend start ASCO 2018 in Chicago. Hier een selectie van belangrijke abstracten binnen het gebied van eierstokkanker, baarmoederkanker en baarmoederhalskanker.
Klik op de nummers voor de abstracten zelf. We zullen komende week zeker een aantal abstracten eruit kiezen om die wat uitgebreider te beschrijven maar hier alvast een voorselectie door dr. Anette Hasenburg die wij hebben overgenomen van ASCO POST:
Session: Gynecologic Cancer
Tuesday June 5, 9:45 AM–12:45 PM
5500 Comparison of survival between upfront primary debulking surgery versus neoadjuvant chemotherapy for stage III/IV ovarian, tubal and peritoneal cancers in phase III randomized trial: JCOG0602. T Onda, T Satoh, T Saito, et al
Take-Home Message
In this phase III noninferiority trial comparing upfront primary debulking surgery (PDS) and neoadjuvant chemotherapy (NAC) for stage III/IV ovarian, tubal, and peritoneal cancers, 149 patients were randomized to the PDS arm (PDS followed by 8 cycles of paclitaxel and carboplatin [the TC regimen]) and 152 to the NAC arm (4 cycles of TC, interval debulking surgery , 4 cycles of TC). In the PDS arm 147 of the 149 patients underwent PDS, 49 of whom underwent IDS. Of the 152 patients in the NAC arm 130 underwent IDS. The median OS was 49.0 months in the PDS arm and 44.3 months in the NAC arm. Complete resection was achieved in 17/147 of the PDS arm and in 45/49 of the PDS patients who also underwent IDS. Complete resection was achieved in 83/130 of the IDS patients in the NAC arm. Median progression-free survival was 15.1 months for the PDS arm and 16.4 months for the NAC arm.
The noninferiority of NAC was not confirmed.
5502 Outcomes and costs of open, robotic, and laparoscopic radical hysterectomy for stage IB1 cervical cancer. DJ Margul, J Yang, BL Seagle, et al
Take-Home Message
In this study, the 2010–2013 National Cancer Data Base was used to evaluate the 5-year survival (5YS) of women with stage IB1 cervical squamous cell carcinoma or adenocarcinoma after radical hysterectomy (RH) performed by open or by minimally invasive surgery (MIS). Laparoscopic or robotic surgery was associated with decreased morbidity and costs; however, women with a tumor size ≥2 cm who underwent MIS radical hysterectomy had significantly shorter survival compared with women who underwent open RH (5YS, 81.3% vs 90.8%; HR, 2.14; P < .001).
These results demonstrate decreased cost and morbidity with MIS; however, women with tumors ≥2 cm who underwent experienced worse survival outcomes.
5507 Correlation of imaging and plasma-based biomarkers to predict response to bevacizumab in epithelial ovarian cancer (EOC): A GOG 218 ancillary data analysis. M Buechel, D Enserro, RA Burger, et al
Take-Home Message
Adiposity can be associated with poor oncologic outcomes. In this study of women with epithelial ovarian cancer treated with chemotherapy plus placebo or chemotherapy plus bevacizumab, increased subcutaneous fat density and visceral fat density were associated with an increased hazard ratio for death (HR per 1-SD increase, 1.12 [P = .0009] and 1.13 [P = .0006], respectively). The overall survival curve in patients with high visceral fat density was improved compared with that in patients with low visceral fat density with the addition of bevacizumab to the chemotherapy regimen.
These results suggest that high subcutaneous and visceral fat density may be prognostic biomarkers in epithelial ovarian cancer; however, further studies are warranted.
5508 Cost-effectiveness of maintenance therapy in advanced ovarian cancer: Paclitaxel, bevacizumab, niraparib, rucaparib, olaparib, and pembrolizumab. JE Wolford, J Bai, LE Minion, et al
Take-Home Message
In this study, the cost-effectiveness of available strategies, adjusting for pretreatment medication costs, infusion center charges, and costs of managing adverse events, was evaluated for treatment of advanced ovarian cancer.
Maintenance paclitaxel was most cost-effective at $870/PFS month. Expected costs of PARP inhibitors prior to progression were approximately $471,989. Comparing pembrolizumab with PARP inhibitors in BRCA-deficient patients, anti–PD-1 maintenance yielded incremental cost-effectiveness ratios per month of life gained of $20,032 (niraparib), $18,444 (rucaparib), and $17,520 (olaparib).
Session: Gynecologic Cancer
Monday June 4, 1:15 PM–4:45 PM
5520 Significant overall survival improvement in proliferative subtype ovarian cancer patients receiving bevacizumab. S Kommoss, F Heitz, BJN Winterhoff, et al
Take-Home Message
Overall survival data were correlated with four molecular subtypes identified in The Cancer Genome Atlas in patients with ovarian cancer from the AGO-OVAR11 (ICON7) trial. Only patients with tumors of the proliferative subtype had a statistically significant benefit with the addition of bevacizumab to standard chemotherapy. The median progression-free and overall survival of patients with proliferative subtypes were 22.17 and 52.43 months, respectively, if bevacizumab was added to standard chemotherapy, but were only 12.0 and 35.27 months in the control arm.
These findings may help to develop molecularly stratified treatment strategies.
5543 Role of primary surgery for persistent residual disease after more than 5 cycles of chemotherapy for primary advanced ovarian cancer. P Harter, H Plett, S Prader, et al
Take-Home Message
In this study, 39 patients with advanced ovarian cancer underwent delayed interval debulking. The median number of preoperative cycles of chemotherapy was 6 (range, 5–8). Complete resection was achieved in 84.6% of patients. The rate of severe complications (Clavien Dindo grade 3 or 4) was 23.1%, without postoperative mortality. The median number of chemotherapy cycles after surgery was 2 (range, 0–4). A total of 15 (38.5%) patients received bevacizumab before cytoreductive surgery and 16 (41.0%) patients received maintenance therapy with bevacizumab. The median progression-free and overall survival in patients with complete resection were 17.2 and 49 months in contrast to only 6.4 and 14 months in patients with incomplete resection.
The authors suggest that delayed interval surgery might be restricted to selected patients in whom the probability for achieving a complete resection is high.
5573 Determinants of severe chronic fatigue among epithelial ovarian cancer survivors: A GINECO VIVROVAIRE study. F Joly, E Kalbacher, D Berton-Rigaud, et al
Take-Home Message
In this study, patient-reported outcomes between 318 epithelial ovarian cancer survivors (EOCS) without relapse ≥3 years after first-line treatment and age-matched controls were compared. Severe chronic fatigue, the main endpoint (26% of EOCS), was one of the most frequently reported late side effects.
Depression, persistence of neurotoxicity, and sleep disturbance were found as the main determinants of severe chronic fatigue and should therefore be diagnosed and treated early.
5574 First results of a prospective national controlled study: Prophylactic Radical Fimbriectomy (NCT01608074), in women with a hereditary familial risk of breast/ovarian cancer—Tolerance and pathological findings. E Leblanc, F Narducci, D Hudry, et al
Take-Home Message
Radical fimbriectomy (RF), with resection of both tubes along with the fimbrio-ovarian junction (attached ovarian fragment), was performed in 121 at the age of 50 years or at menopause in BRCA1/2 carriers or women with a documented familial risk of breast/ovarian cancer. Tubal examination was performed by a trained pathologist using the SEE-FIM protocol (sectioning and extensively examining the fimbriated end). Of these patients, 2.5% had a diagnosis of occult tubal neoplasia. Pathologically, patients had the following: 1 (0.8%) invasive high-gread serous carcinoma, 2 (1.7%) serous tubal intraepithelial carcinomas, 1 (0.8%) serous tubal intraepithelial lesion, and 21 (17.7%) p53 signatures.
RF was safe, well-tolerated, and effective in occult neoplasia detection.
Gerelateerde artikelen