7 augustus 2022:
zie ook dit artikel: https://kanker-actueel.nl/biomarkers-als-genmutaties-dna-en-eiwitexpressie-in-blaaskanker-als-voorspellende-waarde-na-operatie-of-behandeling-van-niet-spierinvasieve-blaaskanker-zijn-moeilijk-te-traceren-toch-zijn-ze-belangrijk-blijkt-uit-overzichtstudie.html

16 april 2014: Bron: European Association of Urology ( EAU ) 29ste jaarlijkse congres : Abstract 122 Gepresenteerd op 12 april 2014
Patiënten met blaaskanker die vooraf aan een operatie - radicale cystectomie behandeld worden met chemo - cisplatin hebben een duidelijk betere kans op overleven als hun tumoren positief testen op het eiwit ECCR1. Dit eiwit is volgens onderzoekers betrokken bij DNA herstel en zou de patient daarmee helpen sneller te herstellen van de DNA schade. Dit stellen Zweedse onderzoekers op basis van gerandomiseerd onderzoek dat zij deden naar tumorweefsel van totaal 244 patiënten met blaaskanker stadium T1 - T4. Deze studie werd gepresenteerd door dr. Tammer Hemdan van het Universitair Ziekenhuis van Uppsala, Zweden op het EAU congres afgelopen week in Stockholm.
Hier een grafiek uit andere genenstudie bij blaaskanker, zie onderaan artikel: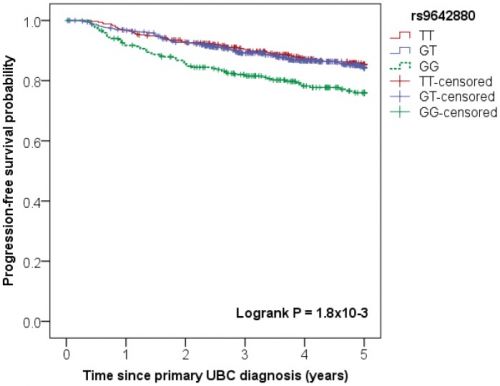 Studieresultaten:
De onderzoekers analyseerden tumorweefsel van 244 patiënten met blaaskanker stadium T1 tot T4. De patiëntengroep werd in 2 groepen verdeeld. 1 groep had alleen een operatie - radicale cystectomie gehad.
De andere groep had vooraf aan de operatie - radicale cystectomie, een aantal chemokuren met cisplatin gehad en dus pas daarna geopereerd. Doel van de studie was om te zien of het ERCC1 eiwit, een algemeen erkende belangrijke biomarker bij blaaskanker, invloed zou hebben op de uitkomsten van de behandelingen.
Van alle patiënten waarvan het tumorweefsel werd geanalyseerd testte 76% positief op de ECCR1 marker.
Voor de patiënten die waren behandeld met alleen een operatie - radicale cystectomie bleek de overall overleving aanmerkelijk lager voor patiënten met een negatieve ERCC1 status dan voor de patiënten met een ERCC1 positieve status ( p = .005 ).
Voor patiënten die waren behandeld met neoadjuvante chemotherapie plus chirurgie blijkt de ERCC1 status geen invloed te hebben op de overall overleving. Dit resulteerde in een verbetering van 45 % in overlevingskansen in vergelijking met alleen operatie. Ook gold dit voor ERCC1 - negatieve patiënten. "Omdat ERCC1 - negatieve patiënten profiteren van neoadjuvante chemotherapie zou dit meer aan deze groep patiënten moeten worden aangeboden " aldus Dr Hemdan.

"In de meeste laboratoria is de immunohistochemie analyse die nodig is om de ERCC1 marker te identificeren aanwezig en wordt ook vaak gebruikt en kan dus gemakkelijk en snel worden uitgevoerd op een biopsie monster", aldus dr. Hemdan.

Tijdens de presentatie geven andere urologen hun mening hierover en o.a. Tim O'Brien , MD, van het Guy's en St Thomas ' Hospital in London is lovend over deze studie: "Het gaat in de richting van een geïndividualiseerde patiëntenzorg, waar men vooraf kan beoordelen of een potentieel giftige behandeling met zware chemo, die ook nog eens duur en belastend is, werkelijk zin heeft of niet. Heel, heel verleidelijk dit.", aldus dr. O'Brien.

"Een van de zorgen over het geven van chemo vooraf aan een cystectomie is - afgezien dat mensen zich vaak heel beroerd voelen van de chemo - dat deze het immuunsysteem afbreekt en een cystectomie vaak vertraagd met maanden.""Bovendien berokkent het waarschijnlijk schade aan degenen die niet reageren op de chemo, dus het is echt belangrijk de behandeling te richten op die mensen die het ook echt nodig hebben en waarvan je mag verwachten dat het ook een respons zal geven," aldus dr. O'Brien.

ERCC1 staat bekend als een DNA reparatie gen en cisplatin veroorzaakt DNA schade, dus als je het gen niet bezit kan de schade zich ook niet herstellen. "Ik denk zeker dat dit een manier is om mensen te selecteren voor wel of geen chemo behandeling."

Klinkt wel heel wijs deze laatste woorden naar mijn mening. zouden ze bij alle vormen van kanker moeten doen m.i..

Het abstract zou online staan maar ik heb het nog niet kunnen vinden.
Wel is op het congres ook een studie naar prognose van biomarkers op uitkomsten bij blaaskanker uit de Radboud - Nijmegen gepresenteerd. Deze studie: Prognostic Relevance of Urinary Bladder Cancer Susceptibility Loci is gratis in te zien.
Hier daarvan het abstract:
This study provides suggestive evidence that genetic loci involved in UBC etiology may influence disease prognosis
PLoS One.
2014;
9
(2)
: e89164.
Prognostic Relevance of Urinary Bladder Cancer Susceptibility Loci
Abstract
In the last few years, susceptibility loci have been identified for urinary bladder cancer (UBC) through candidate-gene and genome-wide association studies. Prognostic relevance of most of these loci is yet unknown. In this study, we used data of the Nijmegen Bladder Cancer Study (NBCS) to perform a comprehensive evaluation of the prognostic relevance of all confirmed UBC susceptibility loci. Detailed clinical data concerning diagnosis, stage, treatment, and disease course of a population-based series of 1,602 UBC patients were collected retrospectively based on a medical file survey. Kaplan-Meier survival analyses and Cox proportional hazard regression were performed, and log-rank tests calculated, to evaluate the association between 12 confirmed UBC susceptibility variants and recurrence and progression in non-muscle invasive bladder cancer (NMIBC) patients. Among muscle-invasive or metastatic bladder cancer (MIBC) patients, association of these variants with overall survival was tested. Subgroup analyses by tumor aggressiveness and smoking status were performed in NMIBC patients. In the overall NMIBC group (n
=
1,269), a statistically significant association between rs9642880 at 8q24 and risk of progression was observed (GT vs. TT: HR
=
1.08 (95% CI: 0.76–1.54), GG vs. TT: HR
=
1.81 (95% CI: 1.23–2.66), P for trend
=
2.6×10−3). In subgroup analyses, several other variants showed suggestive, though non-significant, prognostic relevance for recurrence and progression in NMIBC and survival in MIBC. This study provides suggestive evidence that genetic loci involved in UBC etiology may influence disease prognosis. Elucidation of the causal variant(s) could further our understanding of the mechanism of disease, could point to new therapeutic targets, and might aid in improvement of prognostic tools.
References
Gerelateerde artikelen