Wanneer vrouwen met borstkanker die hormoontherapie volgen 's nachts slapen met een zogeheten koud kussen - Coolpad Pillow Topper dan verminderen de opvliegers en het hevig transpireren voor meer dan de helft en bevordert zodoende ook de slaap 's nachts.
Dit blijkt uit een gerandomiseerde studie bij totaal 74 vrouwen in de leeftijd van pre- (68.9 %) en post-menopausaal (31.1 %). Mediane leeftijd was 49.5 jaar. Hormoontherapie die de vrouwen volgden bestond voornamelijk uit tamoxifen (93.2 %). De frequentie van de opvliegers en nachtelijk zweten verminderde voor meer dan de helft bij de gebruikers van het koude kussen in vergelijking met standaard zorg voor vrouwen met hormoontherapie. (p = 0.024). De vermindering van opvliegers was ook statistisch significant (p = 0.09).
Onderstaande foto van een koud kussen heb ik van Amazone.com gehaald. Tekst gaat verder onder foto.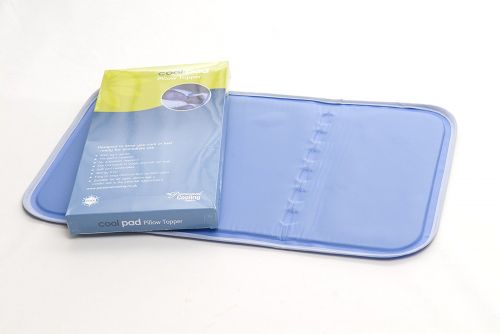 Helaas moet er betaald worden voor het volledige studierapport: A randomised trial of the cool pad pillow topper versus standard care for sleep disturbance and hot flushes in women on endocrine therapy for breast cancer
en geeft het absract weinig meer informatie. Toch lijkt me zinnig dit eens uit te zoeken voor vrouwen die voor hun borstkanker hormoontherapie volgen en last hebben van opvliegers 's nachts. Zo'n kussen is niet echt heel duur begrijp ik en kan wellicht helpen.
Hier het abstract van de studie. Ik kan maar 1 studie vinden in Pubmed die hier onderzoek naar heeft gedaan. Is wel erg weinig, maar ik kan echt niets meer vinden.
The use of the CPPT - Coolpad Pillow Topper is an aid to reduce sleep disturbance and the frequency/severity of hot flushes.
A randomised trial of the cool pad pillow topper versus standard care for sleep disturbance and hot flushes in women on endocrine therapy for breast cancer
Original Article
DOI: 10.1007/s00520-015-2967-3
Cite this article as:

Marshall-McKenna, R., Morrison, A., Stirling, L. et al. Support Care Cancer (2016) 24: 1821. doi:10.1007/s00520-015-2967-3

Abstract

Purpose

Quality of life in women receiving adjuvant endocrine therapy for breast cancer (BC) may be impaired by hot flushes and night sweats. The cool pad pillow topper (CPPT) is a commercial product, promoted to improve quality of sleep disrupted by hot flushes. This study aimed to identify if the CPPT reduces severity of sleep disturbance by minimising effects of hot flushes.

Methods

This randomised phase II trial, recruited women with BC, on adjuvant endocrine therapy, experiencing hot flushes and insomnia. Participants were randomised (stratified by baseline sleep efficiency score (SES) and menopausal status) to the intervention arm (CPPT + standard care) or control arm (standard care). Participants completed Hospital Anxiety and Depression Scale and Functional Assessment of Cancer Therapy-Breast (FACT-B) questionnaires and fortnightly sleep/hot flush diaries (where responses were averaged over 2-week periods). The primary endpoint was change in average SES from −2 to 0 weeks to 2 to 4 weeks.

Results

Seventy-four pre- (68.9 %) and post-menopausal (31.1 %) women were recruited. Median age was 49.5 years. Endocrine therapies included tamoxifen (93.2 %). Median SES at weeks 2 to 4 improved in both arms but the increase on the intervention arm was almost twice that on the control arm (p = 0.024). There were significantly greater reductions in hot flushes and HADS depression in the intervention arm (p = 0.09 and p = 0.036, respectively). There were no significant differences in FACT-B or HADS anxiety.

Conclusion

This study supports the use of the CPPT as an aid to reduce sleep disturbance and the frequency/severity of hot flushes.

Keywords

Hot flushes

Sleep disturbance

Endocrine therapy

Breast cancer

Self-management

Cooling pad pillow topper

Copyright information

© Springer-Verlag Berlin Heidelberg 2015
Gerelateerde artikelen