Helpt u ons aan 500 donateurs om kanker-actueel online te houden?
31 mei 2018: ASCO 2018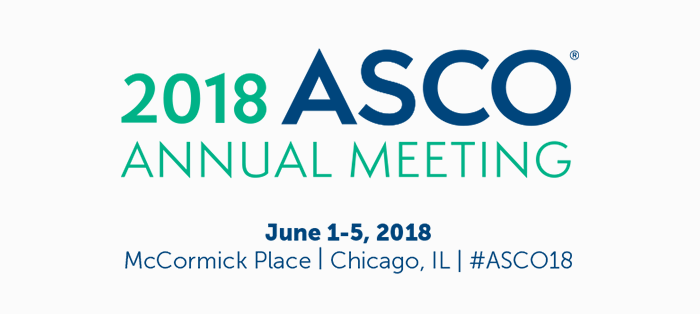 A.s. weekend start ASCO 2018 in Chicago. Hier een selectie van belangrijke abstracten gerelateerd aan hersentumoren
Klik op de nummers voor de abstracten zelf. We zullen komende week zeker een aantal abstracten eruit kiezen om die wat uitgebreider te beschrijven maar hier alvast een voorselectie door dr. Roger Stubb die wij hebben overgenomen van ASCO POST:
Session: Central Nervous System Tumors
Friday, June 1, 2:45 PM–5:45 PM
2003 ALLELE: A consortium for prospective genomics and functional diagnostics to guide patient care and trial analysis in newly-diagnosed glioblastoma. M Touat, AM Dubuc, DM Meredith, et al
Take-Home Message
The primary objective of this multicenter study was to assess the feasibility of genotyping tumors within a period of time for real-time use in clinical trials. To this effect, 39 patients with newly diagnosed glioblastoma underwent clinical genome-wide tumor whole-exome sequencing and chromosomal microarray a median of 51 days following surgery. Actionable findings were identified in 2 patients, and, based on genomics, 2 tumors were reclassified as non-glioblastoma. A companion randomized multi-arm trial has enrolled 26 patients with MGMT unmethylated glioblastoma and is designed to assess standard of care vs adjuvant CC-115, neratinib, or abemaciclib. In each arm, EGFR, PI3K, and CDK will be investigated for the ability to predict outcomes. Updated results will be presented at the conference.


It is feasible to perform molecular profiling with genome-wide tumor whole exome sequencing and chromosomal microarray within a clinically acceptable time frame following surgery in patients with newly diagnosed glioblastoma, the results of which can inform clinical trial analysis with the goal of matching tumor genotyping with patient outcome.
Session: Central Nervous System Tumors
Saturday June 2, 1:15 PM–4:45 PM
2014 The natural course of hypermutator gliomas. C Kamiya-Matsuoka, NR Metrus, KR Shaw, et al
Take-Home Message
In this retrospective study, 309 gliomas with tissue analyzed by next-generation sequencing were identified, and demographics, treatments, and outcomes of patients with a hypermutator genotype (HMGen; defined as tumor mutation burden of 30 or more mutations per Mb or displaying mutations in mismatch repair or DNA polymerase genes) were assessed. Of these patients, 12.3% had HMGen, and, of these, 66% were men. Mutations in Pol (26%), and MMR (16%) were reported; 50% of patients had a tumor mutation burden of 30 or more mutations per Mb. The most common tumor types were glioblastoma (68%), WHO grade III oligodendroglioma (21%), grade II astrocytoma (8%), and grade II oligodendroglioma (3%). HMGen was the initial genotype in 45% of cases; it occurred in the remainder of the cases following treatment with alkylating agents. The average cumulative TMZ dose at HMGen diagnosis was 16 g for glioblastoma, 24.6/28 g for WHO grade II/III astrocytoma, and 41/29.6 g for grade II/III oligodendroglioma. The interval from histopathologic glioblastoma to HMGen glioblastoma was 17.5 months.


This study found that HMGen gliomas can occur spontaneously at initial diagnosis prior to treatment, and they may be associated with longer survival than that in historical controls. In all, 65% of this subgroup remains alive, with a follow-up of 35.7 months.
2019 CXCR4 blockade at the end of irradiation to improve local control of glioblastoma (GBM). RP Thomas, S Nagpal, M Iv, et al
Take-Home Message
This open-label phase I/II study included 29 adult patients with newly diagnosed glioblastoma who completed a 4-week continuous IV infusion with the CXCR4 small-molecule antagonist plerixafor. Phase I of the trial determined that 16.6 µg/kg/hour was well-tolerated and achieved CXCR4 blockade. The estimated mean overall survival was 20.7 months. Patients receiving plerixafor exhibited significantly reduced mean relative cerebral blood volume within the 95% isodose radiation field at 1 and 6 months compared with patients treated with standard chemoradiation. The first recurrence rate was out of field in 58.8% of patients compared with controls at 10%; however, the recurrence rate with standard treatment is generally local in 80% of patients. The high out-of-field first recurrence rate along with the pronounced decrease in cerebral blood volume and within the context of longer survival indicates better local control and an enhanced response to radiation.


These results highlight the potential of blockade of the SDF1/CXCR4 axis and support further investigation of this strategy in the treatment of glioblastoma.
2033 Effect of therapeutic pressure on stability of EGFR amplification in glioblastoma. MS Ahluwalia, CR Dimino, MM Mansukhani, et al
Take-Home Message
In this study,formalin-fixed, paraffin embedded glioblastoma tumor tissue from 68 patients who underwent at least two surgeries and were treated with (n = 12) or without (n = 56) depatuxizumab mafodotin (depatux-m) was analyzed to investigate EGFR expression and amplification and assess biomarker stability. Of the patients who were not treated with depatux-m, 31 (55%) had tumors harboring EGFR amplification at initial diagnosis, with 27 (87%) of them maintaining EGFR amplification at reoperation. Of patients treated with depatux-m, 9 had amplified EGFR at baseline, with 4 (44%) maintaining amplification at reoperation.


These results suggest that depatux-m treatment may reduce maintenance of EGFR amplification, and, as such, influence treatment strategy.
2041 Phase II trial of SurVaxM combined with standard therapy in patients with newly diagnosed glioblastoma. MS Ahluwalia, DA Reardon, AP Abad, et al
Take-Home Message
In this interim analysis of a single-arm, multicenter phase II study, 6-month PFS, 12-month OS, and immunologic response were investigated in 55 patients with newly diagnosed glioblastoma who were treated with temozolomide and radiation followed by adjuvant temozolomide and immunization with SurVaxM. From the time of diagnosis and first immunization, 6-month PFS was 96.3% and 62.8%, respectively. From diagnosis and first immunization, 12-month OS was 90.9% and 70.8%, respectively. Mild immunization-related adverse events were reported, with no serious adverse events related to SurVaxM. The relationship of IDH-1, MGMT methylation status, HLA haplotype, and survivin expression levels with survival will be presented.


These results demonstrate the promising use of standard therapy plus SurVaxM in patients with newly diagnosed glioblastoma.
2059 Integrated clinical experience with ONC201 in H3 K27M glioma. AS Chi, SL Gardner, I Arrillaga, et al
Take-Home Message
In this study, 14 patients (9 adults and 5 children) with H3 K27M glioma were given the DRD2 antagonist ONC201 followed by at least one MRI. Currently, 6 patients remain on therapy at a median of 5.4 months of follow-up with durable radiographic and/or clinical stability or improvement. All 6 patients had received one to two prior lines of therapy. No benefit was reported in 5 patients who received at least three prior lines of therapy.


These preliminary findings demonstrate durable regression and clinical benefit with ONC201 in patients with H3 K27M glioma.
Gerelateerde artikelen