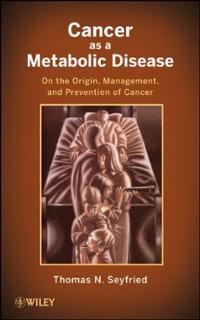 Cancer as a Metabolic Disease
Dit boek wordt door veel mensen in Amerika werkzaam in de oncologie aanbevolen. De prijs is pittig € 108,-- maar Seyfried beschrijft in dit boek hoe kanker ontstaat en voornamelijk een ziekte is die gerelateerd is aan metabolische processen. De meeste dieëten gebruikt ter preventie en bestrijding van kanker zijn ook gebaseerd op de theorie van Dr. Otto Warburg die in de kern hetzelfde beweerde.
Autheur Thomas N. Seyfried, PhD was eerder een wetenschapper aan de Yale universiteit en is nu hoogleraar biologie aan het Boston College. Prof. dr. Seyfried schreef eerder meer dan 150 wetenschappelijke artikelen.
With 400+ pages, and over a thousand scientific references, Cancer as a Metabolic Disease covers broad territory. It attempts to explain the essential nature of primary tumors and of metastases, at the same time providing practical advice on the management and prevention of cancer. The book's central message stands in stark contrast to the prevailing dogma in cancer research.
Ralph Moss writes: In my opinion, it is an amazing intellectual achievement. My colleague, Stephen Strum, MD, FACP, agrees. He recently stated:

"I am a board-certified medical oncologist with 30 years experience in caring for cancer patients and another 20 years of research in cancer medicine dating back to 1963. Seyfried's Cancer as a Metabolic Disease is the most significant book I have read in my 50 years in this field. It should be required reading of all cancer specialists, physicians in general, scientific researchers in the field of cancer and for medical students. I cannot overstate what a valuable contribution Thomas Seyfried has made in writing this masterpiece."
The book addresses controversies related to the origins of cancer and provides solutions to cancer management and prevention. It expands upon Otto Warburg's well-known theory that all cancer is a disease of energy metabolism. However, Warburg did not link his theory to the hallmarks of cancer and thus his theory was discredited. This book aims to provide evidence, through case studies, that cancer is primarily a metabolic disease requring metabolic solutions for its management and prevention. Support for this position is derived from critical assessment of current cancer theories. Brain cancer case studies are presented as a proof of principle for metabolic solutions to disease management, but similarities are drawn to other types of cancer, including breast and colon, due to the same cellular mutations that they demonstrate.
| | |
| --- | --- |
| Hardcover | |
| Engels | |
| Auteur: Thomas Seyfried | |
| 438 pagina's | |
| John Wiley and Sons Ltd | |
| juni 2012 | |
Gerelateerde artikelen