Als u kanker-actueel de moeite waard vindt wilt u misschien ons steunen met een donatie. En als donateur heeft u een aantal voordelen en kunt u bv. korting krijgen bij verschillende bedrijven.
Lees en bekijk ook de patientenverhalen van Jeannette Ter Stege en Fons de Visser
30 september 2018: Bron: Neurology: First published August 31, 2018
Immuuntherapie met de anti-PD medicijnen nivolumab en pembrolizumab aan patiënten met een recidief van een hersentumor van het type glioblastoma multiforme veranderde niets aan de tijd van progressievrije ziekte en overall overleving in vergelijking met een standaard palliatieve behandeling met bv. bevacizumab ( Avastin). Dit blijkt uit een retrospectieve studieanalyse van 31 patiënten die uit compassionate use deze behandeling hadden gekregen.
Mediane progressievrije overleving (mPFS) vanaf de eerste injectie met een anti–PD-1 medicijn was 3.2 maanden (95% confidence interval 2.2–4.2), en er bleek geen verschil tussen nivolumab (mPFS 3.8 maanden, 95% CI 1.7–5.8) vergeleken met pembrolizumab (mPFS 2.3 maanden, 95% CI 1.7–2.8, log rank 3.1, p = 0.08).
Er was ook geen verschil in mediane progressievrije ziekte (mPFS) als patienten eerder wel bevacizumab (Avastin) hadden gehad, (mPFS 3.2 maanden, 95% CI 2–4.3) of geen bevacizumab (Avastin) hadden gehad (mPFS 3.7, 95% CI 0–7.9, log rank 1.3, p = 0.3).
De mediane overall overleving was na de eerste injectie met een anti-PD medicijn 6,6 maanden. (95% CI 4.2–9.1).
Al eerder was de checkmate studie 143 stopgezet (zie in gerelateerde artikelen) omdat nivolumab geen verschil te zien gaf in overall overleving bij dezelfde groep van patienten, dus bij patienten met een recidief van een hersentumor glioblastoma multiforme na de standaard eerstelijns behandeling.
Onderstaande afbeelding komt uit een artikel dat juist wel immuuntherapie met anti-PD medicijnen ziet als hoopvol. Maar de bewijzen zijn er dus nog niet. Zie ook referentielijst onderaan dit artikel.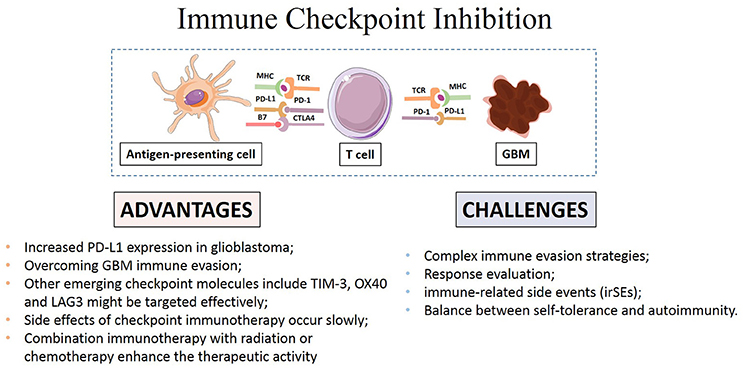 Source: Frontiers/immunotherapy
Het volledige studierapport van de studie: PD-1 inhibition has only limited clinical benefit in patients with recurrent high-grade glioma is tegen betaling in te zien.
Hier het abstract van de studie:
Salvage therapy with nivolumab or pembrolizumab with or without bevacizumab does not confer a survival benefit in this heavily pretreated unselected patient population.
PD-1 inhibition has only limited clinical benefit in patients with recurrent high-grade glioma
References
(2016). Immune checkpoint inhibition is effective in hypermutant Glioblastoma. Cancer Discov. 6:OF7. doi: 10.1158/2159-8290.CD-RW2016-060
Gerelateerde artikelen