Mocht u kanker-actueel de moeite waard vinden en ons willen ondersteunen om kanker-actueel online te houden dan kunt u ons machtigen voor een periodieke donatie via donaties: https://kanker-actueel.nl/NL/donaties.html of doneer al of niet anoniem op - rekeningnummer NL79 RABO 0372931138 t.n.v. Stichting Gezondheid Actueel in Amersfoort. Onze IBANcode is NL79 RABO 0372 9311 38
Elk bedrag is welkom. En we zijn een ANBI instelling dus uw donatie of gift is in principe aftrekbaar voor de belasting.

En als donateur kunt u ook korting krijgen bij verschillende bedrijven:
https://kanker-actueel.nl/NL/voordelen-van-ops-lidmaatschap-op-een-rijtje-gezet-inclusief-hoe-het-kookboek-en-de-recepten-op-basis-van-uitgangspunten-van-houtsmullerdieet-te-downloaden-enof-in-te-zien.html
30 maart 2016: Bron: Indian J Surg Oncol. 2015 Mar; 6(1): 75–81.
Hyperthermie bij alvleesklierkanker als aanvulling op chemo en/of bestraling of wellicht ook aanvullend op personalised medicine en immuuntherapie, wordt de laatste jaren veel onderzocht. Maar er is nog niet zo heel veel over gepubliceerd, al hoewel wij wel een aantal studies hebben geplaatst, zie gerelateerde artikelen en referentielijst hieronder.
Vorig jaar is er een review studie gepubliceerd die m.i. een mooi overzicht geeft van de huidige stand van zaken van hyperthermie bij alvleesklierkanker.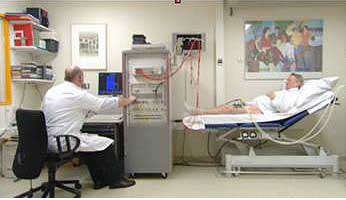 Hyperthermie apparatuur in het AMC Amsterdam

Hier de studies die zijn opgenomen in de review studie
Table 1
Trials on advanced pancreatic cancer
Center
Hyperthermia method
No of patients
Control arm (%)
Arm adding hperth. (%)
Overall Survival (OS) benefit in arm including hyperthermia
Benefit OS odds ratio
Benefit quality of life
Kouloulias et al. 2002 [6]
Athens, Greece
Intrasurgery surface heating
65
85 %
15 %
11 months (SE 2.4 months)
p = 0.029
Better: p = 0.031
Yamada et al. 1992 [5]
Sendai, Japan
Intrasurgery surface heating
69
80 %
20 %
1 year OS:plus 6.9 %
Only marginally better
2. year plus 4.2 %
Mi et al. 2013 [10]
Meta-analysis for adv. gastric cancers
Intraoperative HIPEC-thermoenhanced Chemotherapy
1906 in 16 rand. trials
1. year OS
2.99 (95 % Cl) 2.21 to 4.05; p < 0.00001
No higher risks; but increase incidences of abdominal pain
Hager et al. 2006 [24]
Bad Bergzabern, Germany
Non-invasive loco-reg. heating
46
100 %
Median OS: 10.8 months
QoL improvement & pain decrease (56 %)
1. year OS: 41 %
Zhang et al. (2008) [30]
China
Non-invasive loco-reg. heating
75
49 %
51 %
1. year OS plus 13 %
No serious complicat.
2. year OS plus 50 %
Mueller-Huebenthal 2010 [25]
Stuttgart, Germany
Non-invasive loco-reg. heating
25
100 %
Median OS 12.2 months
Pain reduction observed
1. year OS: 51 %
Maluta et al. 2011 [31]
Verona, Italy
Non-invasive loco-reg. heating
60
50 %
50 %
OS plus 4 months = +36 %
p = 0.025
No increased toxicity
Ishikawa et al. 2012 [32]
Multicentre Japan
Non-invasive loco-reg. heating
18
100 %
Median OS: 8 months; 1 year OS: 33 %
No added toxicity except mild pain & skin rush
Tschoep-Lechner 2013 [33]
Munich, Germany
Non-invasive loco-reg. heating
23
100 %
Median OS 12.9 months
Ik ga deze studie maar niet vertalen maar leest u zelf maar. Mocht u vragen hierover hebben stel ze gerust via redactie@kanker-actueel.nl
Maar zie hier dit studieprotocol voor hyperthermie bij alvleesklierkanker die eerder is stopgezet maar nu weer wel nieuwe patienten aanneemt: https://www.clinicaltrialsregister.eu/ctr-search/trial/2008-004802-14/DE
TRialoffice:
B.5 Contact point designated by the sponsor for further information on the trial
B.5.1
Name of organisation
Coordinating center
B.5.2
Functional name of contact point
Trial office
B.5.3
Address:
B.5.3.1
Street Address
Marchioninistr. 15
B.5.3.2
Town/ city
München
B.5.3.3
Post code
81377
B.5.3.4
Country
Germany
B.5.4
Telephone number
+498970957776
B.5.5
Fax number
+498970954768
B.5.6
E-mail
heat@med.uni-muenchen.de
Het volledige studierapport: Review: The Role of Hyperthermia in Treating Pancreatic Tumors
is gratis in te zien met ook duidelijk omschrijving van de verschillende hyperthermie systemen die er gebruikt worden. Zie overigens daarvoor ook dit artikel:
https://kanker-actueel.nl/NL/hyperthermie-algemeen-een-vergelijking-en-beschrijving-van-verschillende-hyperthermie-systemen-zoals-die-in-nederland-en-ons-omringende-landen-worden-gebruikt.html
Hier het abstract van de reviewstudie met aan het eind een referentielijst:
Hyperthermia has the potential to significantly prolong life expectancies for pancreas cancer patients and this while maintaining a satisfying quality of life!
Indian J Surg Oncol. 2015 Mar; 6(1): 75–81.
Review: The Role of Hyperthermia in Treating Pancreatic Tumors
Abstract
There is only marginal improvement in outcome of treating pancreatic cancer in the last two decades. Time to open up and have a fresh look at complementary adjuvant treatment options. Hyperthermia may be one such option. Hyperthermic intraperitoneal chemotherapy (HIPEC) predominantly as a intrasurgical procedure has already proved its justification. Non-invasive loco regional hyperthermia as complement to either chemo or radiation has not yet reached a comparable status of evidence. However the potential to eventually grow into such evidence is already clearly observable. This review presents the various methodologies available for hyperthermia, covers the initial clinical data that has been published and gives an outlook to what can be expected in the next 2–3 years to come. Hyperthermia has the potential to significantly prolong life expectancies and this while maintaining a satisfying quality of life!
Conclusion
Even though the currently existing data is heterogeneous and in parts methodologically criticizable, still it indicates a clear advantage of adjuvant hyperthermia in prolonging overall survival. Apart from incidences of abdominal pain in the HIPEC method, quality of life is even improved by adding hyperthermia.
Expectations are that the ongoing European prospective randomized phase III HEAT trial will yield valuable insight. Though this treatment option is still rather novel and the trials mentioned use different treatment schema, despite all the variations, they all show clear beneficial results indicating the potential that lies in hyperthermia as an additional adjuvant and palliative treatment option.
---
Articles from
Indian Journal of Surgical Oncology
are provided here courtesy of
Springer
Gerelateerde artikelen