11 augustus 2018: Zie ook dit artikel:
https://kanker-actueel.nl/plaats-van-de-primaire-tumor-bij-uitgezaaide-darmkanker-geeft-grote-verschillen-in-overall-overleving-bij-patienten-met-ras-wild-type-die-eerstelijns-behandeling-met-panitumumab-krijgen.html
En in gerelateerde artikelen.
11 april 2014: aanvullend op onderstaand artikel over hoe belangrijk een biomoleculair onderzoek - receptoren en genenonderzoek - is hier enkele recente studies naar vergelijkingen tussen panitumumab en FOLFOX4. Onderaan artikel een referentielijst behorend bij laatst genoemde studieabstract en hier grafiek uit die studie: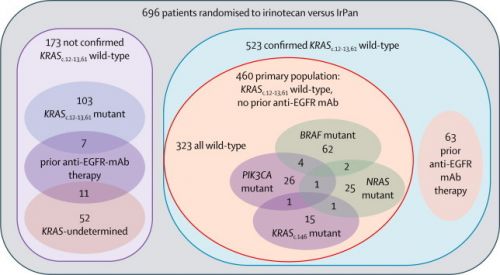 Het abstract van de Peak studie: PEAK: A Randomized, Multicenter Phase II Study of Panitumumab Plus Modified Fluorouracil, Leucovorin, and Oxaliplatin (mFOLFOX6) or Bevacizumab Plus mFOLFOX6 in Patients With Previously Untreated, Unresectable, Wild-Type KRAS Exon 2 Metastatic Colorectal Cancer.
Het abstract en volledig studierapport van de volgende studie: Health-related quality of life and colorectal cancer-specific symptoms in patients with chemotherapy-refractory metastatic disease treated with panitumumab
Conclusion:
In conclusion, our analyses illustrate the clinically significant beneficial effects of panitumumab in terms of CRC-specific symptom control and maintenance of HRQoL in patients with wild-type KRAS mCRC, and these findings extend our understanding of the benefits of panitumumab treatment beyond improvements in PFS.
Onderaan artikel een referentielijst behorend bij laatst genoemde studie:
10 maart 2014: Bron: NEJM - New England Journal of Medicine

Dat een uitgebreid receptorenonderzoek bij darmkanker belangrijk is bewijzen verschillende studies, maar de laatste studie in het NEJM bevestigt dat minimaal de bepaling van EGFR status (anti–epidermal growth factor receptor) plus een aantal andere genafwijkingen (RAS, NRAS, BRAF) cruciaal zijn voor het bepalen van een gerichte effectieve behandeling van uitgezaaide darmkanker.

Veel mensen met darmkanker, zeker als die inoperabel en uitgezaaid is krijgen een behandeling met FOLFOX4 (oxaliplatin, fluorouracil en leucovorin) plus in geval van een EGFR positieve mutatie een monoklonaal middel waarbij erbitux - cetuximab en panitumumab de meest gebruiikte medicijnen zijn. Echter alleen de bepaling van de EGFR receptor voldoet niet om de juiste behandeling te krijgen. Het blijkt dat minimaal 60% van de patiënten met darmkanker naast hun EGFR mutatie ook andere mutaties hebben, de zogenoemde RAS en NRAS en BRAF mutaties, die heel belangrijk zijn voor een effectieve vervolgbehandeling.

In the New England Journal of Medicine is afgelopen maand een studie gepubliceerd waarbij werd aangetoond dat slechts 40% van de mensen met een EGFR positieve genafwijking profiteren van medicijnen als panitumumab en erbitux - cetuximab omdat alleen deze mensen ook een genafwijking hebben in de RAS en NRAS genen die gevoelig blijken voor de monoklonale medicijnen. Het alarmerende aan deze studie is dat wie die juiste combinatie niet heeft juist door de anti-EGFR medicijnen slechter af is en eerder de tumoren stiumuleert te groeien dan af te remmen.
Studieresultaten:
In een prospectieve - retrospectieve analyse, werd de effectiviteit en veiligheid van panitumumab plus oxaliplatin, fluorouracil, en leucovorin (FOLFOX4) vergeleken met FOLFOX4 alleen, gerelateerd aan de RAS mutatie (KRAS of NRAS) of BRAF mutatie status. Totaal 639 patiënten met uitgezaaide darmkanker zonder positieve KRAS mutaties in exon 2 hadden wel een positieve mutatie in tenminste een van de volgende KRAS exons 3 en 4, NRAS exon 2, 3, of 4; of BRAF exon 15. De overall positieve RAS status was maar liefst 90%.

Onder de 512 patiënten zonder RAS mutaties, blijkt de progressievrije overleving 10,1 maanden met panitumumab plus FOLFOX4 te zijn versus 7,9 maanden met FOLFOX4 alleen (hazard ratio voor progressie van de ziekte of overlijden aan de ziekte met combinatietherapie: 0,72 , 95% betrouwbaarheidsinterval [ BI] , 00:58 tot 0,90 , P = 0,004 ). Totale overleving bleek mediaan 26,0 maanden in de panitumumab plus FOLFOX4 groep tegenover 20,2 maanden in de groep die alleen FOLFOX4 kreeg (hazard ratio voor sterfte , 0,78 , 95% CI , 0,62-0,99 , p = 0,04). Totaal 108 patiënten ( 17% ) met gemuteerde KRAS exon 2 mutaties hadden andere bijbehorende RAS mutaties.

Deze mutaties werden geassocieerd met significant mindere kans op progressievrije overleving en algehele overleving met een panitumumab plus FOLFOX4 behandeling, welke consistent waren met de bevindingen bij patiënten met KRAS mutaties in een exon 2 BRAF mutatie welke een negatieve prognostische factor bleken.
Conclusie:
Extra RAS mutaties voorspelden een gebrek aan respons bij patiënten die panitumumab - FOLFOX4 kregen. Bij patiënten die uitgezaaide darmkanker hadden zonder extra andere RAS mutaties, werden wel verbeteringen in de totale overleving waargenomen met panitumumab plus FOLFOX4 therapie.
De volgende 4 studies bevestigen de resultaten uit de PRIME studie:
References
Allegra CJ, Jessup JM, Sommerfield MP, et al. American Society of Clinical Oncology provisional clinical opinion: testing for KRAS gene mutations in patients with metastatic colorectal carcinoma to predict response to anti-epidermal growth factor receptor monoclonal antibody therapy. J Clin Oncol. 2009;27:2091-2096.

Morelli MP, Overman MJ, Dasari A, et al. Heterogeneity of acquired KRAS and EGFR mutations in colorectal cancer patients treated with anti-EGFR monoclonal antibodies. Program and abstracts of the 2013 American Society of Clinical Oncology Annual Meeting; May 31-June 4, 2013; Chicago, Illinois.

Stintzing S, Jung A, Rossius L, et al. Analysis of KRAS/NRAS and BRAF mutations in FIRE-3: A randomized phase III study of FOLFIRI plus cetuximab or bavacizumab as first-line treatment for wild-type (WT) KRAS (exon 2) metastatic colorectal cancer (mCRC) patients. Program and abstracts of the European Cancer Congress 2013; September 27-October 1, 2013; Amsterdam, The Netherlands.

Douillard JY, Oliner KS, Siena S, et al. Panitumumab-FOLFOX4 treatment and RAS mutations in colorectal cancer. N Engl J Med. 2013;369:1023-1034.
Het volledige studieverslag van de PRIME studie: Panitumumab–FOLFOX4 Treatment and RAS Mutations in Colorectal Cancer is tegen betaling in te zien. U kunt ook proberen via http://www.openaccessbutton.org/ het volledige artikel gratis in te zien.

Hier het abstract van de PRIME studie welke aangemeld staat bij ClinicalTrials.gov onder nummer:NCT00364013 .
Additional RAS mutations predicted a lack of response in patients who received panitumumab–FOLFOX4. In patients who had metastatic colorectal cancer without RAS mutations, improvements in overall survival were observed with panitumumab–FOLFOX4 therapy.
N Engl J Med 2013; 369:1023-1034September 12, 2013DOI: 10.1056/NEJMoa1305275

Panitumumab–FOLFOX4 Treatment and
RAS

Mutations in Colorectal Cancer
Health-related quality of life and colorectal cancer-specific symptoms in patients with chemotherapy-refractory metastatic disease treated with panitumumab: references
Gerelateerde artikelen