Conclusies:
Verschillende medicijnen en medicijnencombinaties zijn op dit moment voorhanden voor uitgezaaide darmkanker, maar welke behandeling de optimale is blijft onzeker (zie Figure 4). De behandeling van uitgezaaide darmkanker is een stap voor stap behandeling met iedere stap weer een nieuw te overwegen beslissing. Voor bv. een anti-angiogenetische of EGFR medicijn) aanpak en welke chemo combinatie (oxaliplatin-gebaseerd of irinotecan-gebaseerd) als tweede en derde lijns aanpak. Eerste lijns startend met Avastin - bevacizumab en een chemo combinatie (of 5-FU/oxaliplatin of 5-FU/irinotecan) geeft meer opties voor later met geregistreerde medicijnen. Verder is het gebruik van een onderhoudsbehandeling als eerste lijns met behandelingsvrije periodes om de bijwerkingen en medicijn resistentie tegen te gaan zeker een optie. Uiteindelijik is nog een keer oxaliplatin starten tijdens progressie van de ziekte zeker een optie die de overall overleving kan beinvloeden. Strategische studies zijn nodig om de optimale volgorde te bepalen bij een bepaalde populatie van kankerpatiënten met uitgezaaide darmkanker.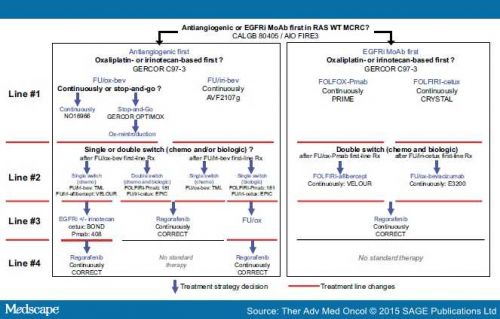 Figure 4.
Multiline therapeutic strategies in wild-type RAS metastatic colorectal cancer (mCRC): treatment decisions from first-line to salvage treatment.
Abbreviations: chemo, chemotherapy; bev, bevacizumab; ox, oxaliplatin; cetux, cetuximab; iri, irinotecan; Pmab, panitumumab; FU, fluoropyrimidine, Rx, therapy.
GERCOR C97-3 [Tournigand et al. 2004]; NO16966 [Saltz et al. 2008]; OPTIMOX1 [Tournigand et al. 2006]; OPTIMOX2 [Chibaudel et al. 2009]; AVF2107g [Hurwitz et al. 2004]; PRIME [Douillard et al. 2010]; CRYSTAL [Van Cutsem et al. 2009]; TML [Bennouna et al. 2013]; 181 [Peeters et al. 2010]; EPIC [Sobrero et al. 2008]; ECOG 3200 [Giantonio et al. 2007]; VELOUR [Van Cutsem et al. 2011]; BOND [Cunningham et al. 2004]; 408 [Van Cutsem et al. 2007]; CORRECT [Grothey et al. 2013].
Biomoleculaire testen voor KRAS en NRAS expressie (exons 2, 3, en 4) is noodzakelijk maar tot nu toe niet voldoende om de juiste patiënten te selecteren voor een juiste anti-EGFR MoAbs behandeling (zie Figure 1B in volledige studierapport). Een verhoging van een juiste selectie is noodzakelijk voor een optimale keuze voor een bepaalde behandeling. Bovendien zou de tijd die nodig is om die selectie te maken veel korter moeten zijn en eerder moeten plaatsvinden om de beste behandeling te geven na de diagnose.
En nog een keer herhaald: Wat m.i. ontbreekt is om al vanaf het begin debulking, zoveel mogleijk tumorweefsel weghalen, met daarna aanvullend immuuntherapie toe te passen. Daar wordt niet over gesproken terwijl als we zien wat daarvan de resultaten kunnen zijn deze optie veruit de eerst aangewezen optie zou moeten zijn, is mijn bescheiden mening. En blijkt ook uit verschillende studies.
Het volledige studierapport dat recent nog is bijgewerkt: Therapeutic Strategy in Unresectable Metastatic Colorectal Cancer: An Updated Review staat hieronder gekopieerd uit SAGE en Medscape. De vertaling, hierboven van gedeeltes en interpretatie is vrij vertaald naar eigen kennis en inzicht.