Raadpleeg ook de literatuurlijst niet-toxische ondersteuning van arts-bioloog drs. Engelbert Valstar bij borstkanker.
13 augustus 2021: zie ook dit artikel: https://kanker-actueel.nl/olaparib-een-parpremmer-gegeven-aan-borstkankerpatienten-met-brca-1-en-brca-2-na-operatie-en-chemotherapie-verbetert-ziektevrije-overleving-met-9-procent.html

Zie ook dit artikel:
https://kanker-actueel.nl/NL/pi3k-remmer-buparlisib-naast-fulvestrant-geeft-30-tot-50-procent-langere-ziekteprogressievrije-tijd-maar-wel-meer-bijwerkingen-bij-gevorderde-borstkanker.html
Zie ook in gerelateerde artikelen
26 augustus 2018: Bron: Bron ESMO open
Voor borstkankerpatiënten met een erfelijke vorm van kanker met BRCA-1 en BRCA-2 mutaties en HER-2 negatieve expressie zijn PARP remmers, zoals olaparib en rucaparib en niraparib enz., de aangewezen behandeling als er sprake is van een recidief en uitzaaiingen na eerste- en tweedelijns behandelingen.
Echter nu blijkt uit een meta analyse en reviewstudie van twee gerandomiseerde studies met totaal 733 patiënten, dat weliswaar de progressievrije ziekte met enkele maanden werd verlengd en de kwaliteit van leven wel wat beter was voor de PARP groep. (In de subgroep analyse gerelateerd aan de hormoon receptor status, single-agent PARPi was geassocieerd met verbeterde progressievrije ziekte (PFS) met alleen in de hormoonnegatieve receptorgroep een statistisch significant verschil. (HR 0.51 (95% CI 0.37 to 0.71, p<0.001)) (I2=31.5%, p=0.227; figure 3A en niet in de hormoon receptor positieve groep (HR 0.62 (95% CI 0.36 to 1.07, p=0.085)) (I2=72.2%, p=0.058; figure 3B.)
Maar de uiteindelijke overall overleving verschilde niet in vergelijking met chemotherapie. (In de OlympiAD en de EMBRACA studies, respectievelijk, mediane OS was 19.3 maanden en 22.3 maanden in de PARPi groepen versus 19.6 maanden en 19.5 maanden in de chemotherapie groep).
Dit is de kernboodschap van deze reviewstudie:
This meta-analysis of two randomized controlled trials including 733 patients was designed to assess the safety, activity, and efficacy of single-agent PARP inhibitors compared with monochemotherapy in patients with BRCA-mutated HER2-negative metastatic breast cancer. Significant improvements in progression-free survival and objective response rates were observed with single-agent PARP inhibitors compared with chemotherapy. Patients treated with PARP inhibitors also reported a significant delay in time to quality-of-life deterioration. PARP inhibitor use led to a significantly increased risk of headache and anemia, and a decreased risk of palmar–plantar erythrodysesthesia syndrome and neutropenia compared with monochemotherapy.

These findings demonstrate the tolerability and efficacy of single-agent PARP inhibitors in this patient population.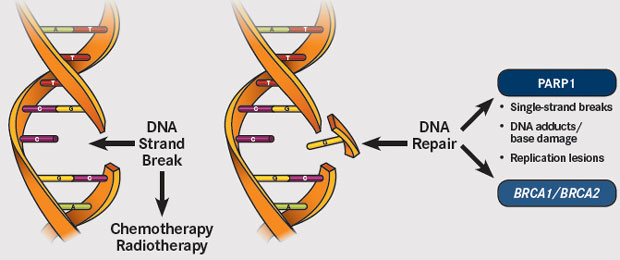 Source: Onclive.com
Klik op de titel van de studie om het volledige studierapport in te zien dat gratis is met veel verduidelijkende grafieken:
Hier het abstract uit ESMO Open:
Single-agent PARP inhibitors for the treatment of patients with BRCA-mutated HER2-negative metastatic breast cancer: a systematic review and meta-analysis
Abstract
Single-agent poly (ADP-ribose) polymerase (PARP) inhibitors (PARPi) have been approved as the first targeted therapy available for patients with BRCA-mutated HER2-negative metastatic breast cancer. This meta-analysis aimed to better evaluate activity, efficacy and safety of single-agent PARPi in this population. A systematic search of Medline, Embase and conference proceedings up to 31 January 2018 was conducted to identify randomised controlled trials (RCTs) investigating single-agent PARPi versus monochemotherapy in patients with BRCA-mutated HER2-negative metastatic breast cancer. Using the random-effect model, we calculated summary risk estimates (pooled HR and OR with 95% CI) for progression-free survival (PFS), overall survival (OS), objective response rate (ORR), any grade and grade 3–4 adverse events (AEs), treatment discontinuation rate and time to deterioration in quality of life (QoL). Two RCTs (n=733) were included. As compared with monochemotherapy, single-agent PARPi significantly improved PFS (HR 0.56(95% CI 0.45 to 0.70)) and ORR (OR 4.15 (95% CI 2.82 to 6.10)), with no difference in OS (HR 0.82 (95% CI 0.64 to 1.05)). Single-agent PARPi significantly increased risk of anaemia and any grade headache, but reduced risk of neutropenia and any grade palmar-plantar erythrodysesthesia syndrome as compared with monochemotherapy. No significant differences in other AEs and treatment discontinuation rate were observed. Patients treated with PARPi experienced a significant delayed time to QoL deterioration (HR 0.40 (95% CI 0.29 to 0.54)). Single-agent PARPi showed to be an effective, well tolerated and useful treatment in maintaining QoL of patients with BRCA-mutated HER2-negative metastatic breast cancer.
This is an open access article distributed in accordance with the Creative Commons Attribution Non Commercial (CC BY-NC 4.0) license, which permits others to distribute, remix, adapt, build upon this work non-commercially, and license their derivative works on different terms, provided the original work is properly cited and the use is non-commercial. See: http://creativecommons.org/licenses/by-nc/4.0/
Acknowledgments
ML thanks the European Society for Medical Oncology (ESMO) for support in the form of a Translational Research Fellowship at the Institut Jules Bordet (Brussels, Belgium).
Footnotes
Contributors All the authors make substantial contributions to conception and design, and/or acquisition of data, and/or analysis and interpretation of data, giving final approval of the version to be submitted.

Funding The authors have not declared a specific grant for this research from any funding agency in the public, commercial or not-for-profit sectors.

Competing interests LDM received personal fees from Novartis Pharma AG, Roche-Genentech, Ipsen, Astrazeneca, Takeda, Eli Lilly outside the submitted work. EdA received honoraria from Roche-Genentech, research grant from Roche-Genentech (to the institution) and travel grants from Roche-Genentech and GlaxoSmithKline outside the submitted work. ML served as a consultant for Teva outside the submitted work.

Patient consent Not required.

Provenance and peer review Not commissioned; internally peer reviewed.
Request Permissions
If you wish to reuse any or all of this article please use the link below which will take you to the Copyright Clearance Center's RightsLink service. You will be able to get a quick price and instant permission to reuse the content in many different ways.
Copyright information:
© European Society for Medical Oncology (unless otherwise stated in the text of the article) 2018. All rights reserved. No commercial use is permitted unless otherwise expressly granted.
This is an open access article distributed in accordance with the Creative Commons Attribution Non Commercial (CC BY-NC 4.0) license, which permits others to distribute, remix, adapt, build upon this work non-commercially, and license their derivative works on different terms, provided the original work is properly cited and the use is non-commercial. See: http://creativecommons.org/licenses/by-nc/4.0/
Gerelateerde artikelen