Mocht u kanker-actueel de moeite waard vinden en ons willen ondersteunen om kanker-actueel online te houden dan kunt u ons machtigen voor een periodieke donatie via donaties: https://kanker-actueel.nl/NL/donaties.html of doneer al of niet anoniem op - rekeningnummer NL79 RABO 0372931138 t.n.v. Stichting Gezondheid Actueel in Amersfoort. Onze IBANcode is NL79 RABO 0372 9311 38
Elk bedrag is welkom. En we zijn een ANBI instelling dus uw donatie of gift is in principe aftrekbaar voor de belasting.

En als donateur kunt u ook korting krijgen bij verschillende bedrijven:
https://kanker-actueel.nl/NL/voordelen-van-ops-lidmaatschap-op-een-rijtje-gezet-inclusief-hoe-het-kookboek-en-de-recepten-op-basis-van-uitgangspunten-van-houtsmullerdieet-te-downloaden-enof-in-te-zien.html
12 juli 2016: Bron: Integr Cancer Ther. 2005 Mar;4(1):8-13
Polarity therapy - energie opwekkende behandelingen (zie Wikipedia over Polarity Therapy) verminderen de vermoeidheid veroorzaakt door bestraling bij borstkankerpatiënten. Dit blijkt uit een kleinschalige gerandomiseerde studie bij totaal 54 borstkankerpatienten.
Misschien wel belangrijker is de referentielijst behorend bij deze studie die aantoont dat energie opwekkende behandelingen zoals Reiki, bioresonance, massage, acupunctuur allemaal vallend onder de noemer Polarity Therapy een meerwaarde kunnen betekenen voor borstkankerpatienten.
Hier twee grafieken. De eerste wat polarity therapy allemaal kan beinvleoden. Daaronder grafiek uit de borstkankerstudie: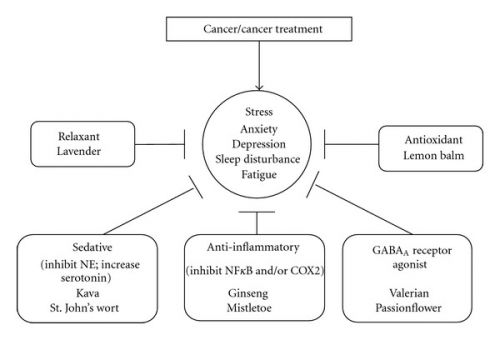 Hieronder in grafiek de verschillen tussen de drie groepen: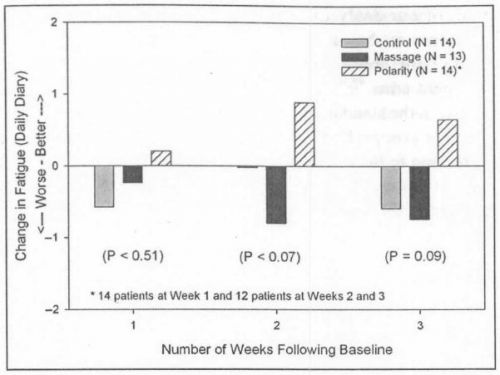 Leest u zelf het studierapport dat volledig en gratis is in te zien:
Hier het abstract met daaronder de referentielijst:
The present pilot randomized clinical trial supports previous experimental research showing that Polarity Therapy, a noninvasive and gentle energy therapy, may be effective in controlling CRF
Polarity Therapy for cancer-related fatigue in patients with breast cancer receiving radiation therapy: a randomized controlled pilot study.
Abstract
BACKGROUND:
Cancer-related fatigue (CRF) is the most frequently reported side effect of cancer and its treatment. In previous research, Polarity Therapy (PT), an energy therapy, was shown to reduce CRF in patients receiving radiation. This study reports on a small randomized clinical trial designed to collect preliminary data on the efficacy of PT compared with an active control (massage) and passive control (standard care) for CRF among cancer patients receiving radiation therapy.
METHODS:
Forty-five women undergoing radiation therapy for breast cancer were randomized to 1 of 3 weekly treatment conditions. Patients received standard clinical care, 3 modified massages, or 3 PT treatments. CRF and health-related quality of life (HRQL) were assessed during baseline and the 3 intervention weeks.
RESULTS:
TResults show CRF ratings were reduced after PT. The effect sizes for PT versus modified massage and versus standard care were small when using the primary measure of CRF (Brief Fatigue Inventory) and large when using the secondary measure of CRF (Daily CRF Diaries).The effect size was medium when assessing the benefit of PT on maintaining HRQL compared with standard care with very little difference between the PT and modified massage conditions. Patients' feedback showed that both the modified massage and PT treatments were deemed useful by radiation patients.
CONCLUSION:
The present pilot randomized clinical trial supports previous experimental research showing that PT, a noninvasive and gentle energy therapy, may be effective in controlling CRF. Further confirmatory studies as well as investigations of the possible mechanisms of PT are warranted.
TRIAL REGISTRATION:
ClinicalTrials.gov NCT00288795.
© The Author(s) 2011
[PubMed - indexed for MEDLINE]

References
Gerelateerde artikelen