Mocht u kanker-actueel de moeite waard vinden en ons willen ondersteunen om kanker-actueel online te houden dan kunt u ons machtigen voor een periodieke donatie via donaties: https://kanker-actueel.nl/NL/donaties.html of doneer al of niet anoniem op - rekeningnummer NL79 RABO 0372931138 t.n.v. Stichting Gezondheid Actueel in Amersfoort. Onze IBANcode is NL79 RABO 0372 9311 38
Elk bedrag is welkom. En we zijn een ANBI instelling dus uw donatie of gift is in principe aftrekbaar voor de belasting.

22 februari 2022: lees ook dit artikel: https://kanker-actueel.nl/NL/alzheimerpatienten-missen-goede-bacterie-in-hun-darmen-die-gezonde-mensen-wel-hebben-veel-vezels-en-gevarieerd-eten-zou-alzheimer-kunnen-voorkomen.html
8 september 2017: Lees ook dit artikel:
https://kanker-actueel.nl/NL/gezonde-leefstijl-met-volkoren-producten-dagelijks-bewegen-en-weinig-rood-en-bewerkt-vlees-kan-darmkanker-voorkomen-tot-wel-45-procent.html
7 januari 2016: Bron: Front Microbiol. 2015; 6: 1050. Published online 2015 Oct 6. doi: 10.3389/fmicb.2015.01050
Gevarieerd eten, vooral in de eerste twintig jaar van ons leven, stimuleert de darmflora en beschermt mensen tegen ziektes in hun verdere leven waaronder kanker. De darmflora lijkt ook goed te kunnen voorspellen voor welke ziektes mensen gevoeliger zullen zijn en voor welke ziektes minder gevoelig omdat een verstoorde darmflora - verstoord metabolisme, ook invloed heeft op de genenmutaties die ontstaan.
Dit beweren Braziliaanse onderzoekers n.a.v. een groot onderzoek dat zij deden naar de rol van de darmflora in relatie tot DNA afwijkingen en ziektes. Met zoals gezegd: vooral de opbouw van de darmflora in de eerste twintig jaar van ons leven (en wellicht begint dat al in de baarmoeder) heeft levenslange gevolgen, al kan wel een en ander gerepareerd worden met verandering van leefstijl en voedingspatroon.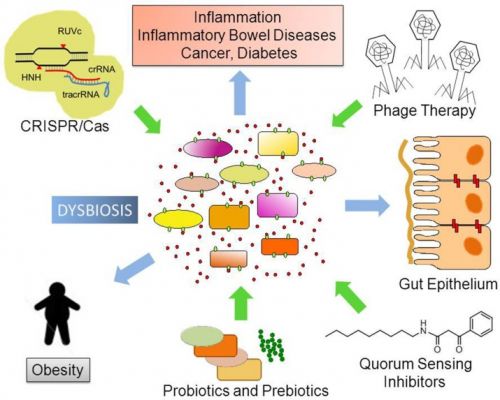 Foto: wat een verstoorde darmflora kan veroorzaken allemaal
Veel mensen weten wel dat je darmflora - bacteriën in de darm - een grote rol spelen in onze gezondheid. En veel mensen weten ook wel dat gevarieerd eten gezonder is dan elke dag hetzelfde. Zelfs als dat allemaal gezond en verantwoord eten is. Bekendste euvel van vegetariërs is bv. dat ze bepaalde eiwitten, bepaalde vitamines of mineralen of bv. ijzer uit vlees tekort komen als ze dat niet compenseren met specifieke voedingsproducten zoals noten, bepaald fruit enz. Ik ben geen voedingsdeskundige maar op internet is heel veel daarover te vinden of vraag uw huisarts of behandelend arts of diëtisten in uw omgeving.


Nog niet zo lang geleden lag de nadruk op eten met voldoende zogeheten macronutriënten zoals koolhydraten, eiwitten en vetten en op de zogeheten micronutriënten zoals vitamines, mineralen, spoorelementen en vezels. Daarom was gevarieerd eten volgens de schijf van vijf zo belangrijk om uit elk voedingsproduct weer iets anders te halen. De laatste jaren wordt door deskundigen bv. geadviseerd om zo weinig mogelijk koolhydraten te eten en minder vlees en meer groenten en fruit. De schijf van vijf is daarop ook recent beetje aangepast, met name minder vlees eten. Een goeie zaak lijkt mij gezien de mindere kanten van vlees eten dat kankerverhogend werkt.
Toch lijkt het ook raadzaam om niet zomaar over te gaan op een eenzijdig voedselpatroon.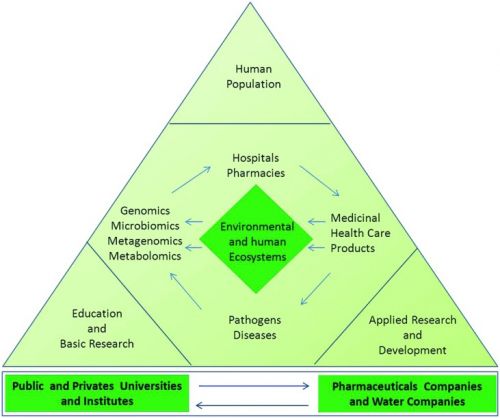 Hoe rijker je darmflora, hoe gezonder je spijsvertering - metabolisme. Bv. Hilde Maris schrijft in haar boek: Kanker begrijpen - De wijsheid van het lichaam het volgende:


"De bacteriën in de darm voeden zich niet allemaal met dezelfde nutriënten. Sommige bacteriën voeden zich met koolhydraten of vezels, andere met eiwitten. Als je eenzijdig eet, krijgen bepaalde bacteriën te veel en andere te weinig voedsel. Dat betekent dat sommige bacteriën zich sterk kunnen vermenigvuldigen en andere afsterven. Verschillende bacteriën hebben verschillende taken, zoals het moduleren van de immuniteit, het remmen van inflammatie (ontstekingen), het controleren van de bloedsuikerspiegel, het reguleren van honger en verzadiging, de afbraak en opname van voedingsstoffen, de activiteit van genen, enz. Een bacterieel onevenwicht - verstoorde darmflora, dysbiose - is gelinkt aan metabole aandoeningen, zoals overgewicht, diabetes, chronische ontsteking en kanker.
Een gezonde, gevarieerde darmflora is ook belangrijk om de bovengenoemde bioactieve stoffen en andere nutriënten uit de voeding om te zetten in nog actievere stoffen."
In het volledige studierapport:
dat gratis is in te zien wordt een mooie analyse gegeven aan de hand van hun bevindingen waarom de darmflora zo essentieel is voor onze gezondheid. En vooral waarom juist de voeding in onze kindertijd en pubertijd cruciaal is in de opbouw van een gezonde darmflora.

Hier het abstract van de studie met de conclusie en een lange referentielijst:
The designing and production of pharmaceuticals based on our own body's microbiome is an emerging field and is rapidly growing to be fully explored in the near future. This review provides an outlook on recent findings on the human microbiomes, their impact on health and diseases, and on the development of targeted therapies.
Source: Front Microbiol. 2015; 6: 1050. Published online 2015 Oct 6. doi: 10.3389/fmicb.2015.01050
The human body is the residence of a large number of commensal (non-pathogenic) and pathogenic microbial species that have co-evolved with the human genome, adaptive immune system, and diet. With recent advances in DNA-based technologies, we initiated the exploration of bacterial gene functions and their role in human health. The main goal of the human microbiome project is to characterize the abundance, diversity and functionality of the genes present in all microorganisms that permanently live in different sites of the human body. The gut microbiota expresses over 3.3 million bacterial genes, while the human genome expresses only 20 thousand genes. Microbe gene-products exert pivotal functions via the regulation of food digestion and immune system development. Studies are confirming that manipulation of non-pathogenic bacterial strains in the host can stimulate the recovery of the immune response to pathogenic bacteria causing diseases. Different approaches, including the use of nutraceutics (prebiotics and probiotics) as well as phages engineered with CRISPR/Cas systems and quorum sensing systems have been developed as new therapies for controlling dysbiosis (alterations in microbial community) and common diseases (e.g., diabetes and obesity). The designing and production of pharmaceuticals based on our own body's microbiome is an emerging field and is rapidly growing to be fully explored in the near future. This review provides an outlook on recent findings on the human microbiomes, their impact on health and diseases, and on the development of targeted therapies.
Conclusion and Perspectives
Recent advances in microbiome sequencing projects revealed the high complexity of microbial communities in various human body sites. They have confirmed the critical roles of the human-microbiota ecosystems in health-promoting or disease-causing processes. These studies have highlighted the unexpected and wide-ranging consequences of eliminating certain bacteria living in our body.
While the natural variation of the human microbiota has yet to be fully determined, the annotation and analyses of a large number of human microbiomes have shown that the presence or absence of specific microbial species categorizes human individuals based on enterotypes. It is likely that cultivated and uncultivated microbes will contribute to discovering new fundamental biomarkers for specific human disorders and that they may become better discriminatory tools than human-based ones.
Changes in the stability and dynamic of numerous microbial communities have been associated with several diseases, including type II diabetes, obesity, fatty liver disease, irritable bowel syndrome, and IBDs and even certain cancers. However, further studies need to be done in order to confirm whether low bacterial diversity increases the chances to develop such diseases and metabolic perturbations.
The use of antibiotics compromises genome defense and increases the ability to acquire antibiotic resistance. Prebiotics, probiotics, synbiotics, phage therapy, quorum sensing systems, and CRISPR/Cas systems have been proposed as tools to control and modulate microbial communities. Engineering of pathogen-specific bacteriophages and production of pharmaceuticals based on our own body's microbiome will be possible and fully explored in the near future. The use of novel pharmaceuticals and nutraceuticals to modulate microbial colonization and development of a healthy gut microbial community in early childhood will support healthy adult human body functions and prevent the occurrence of several diseases.
Author's Contribution
The authors conducted the literature review process, grading, and categorizing criteria, and quality of selected articles. The authors read and approved the final manuscript.
Conflict of Interest Statement
The authors declare that the research was conducted in the absence of any commercial or financial relationships that could be construed as a potential conflict of interest.
Acknowledgments
We thank colleagues of Institute of Biomedical Sciences of the University of São Paulo for insights and productive discussions. This work was supported by grants from Fundação de Amparo a Pesquisa do Estado de São Paulo (FAPESP, proc. 2015/1177-8, 2015/18647-6) and Conselho Nacional de Desenvolvimento Científico e Tecnológico (CNPq).
Footnotes
---
Articles from
Frontiers in Microbiology
are provided here courtesy of
Frontiers Media SA
Gerelateerde artikelen