Mocht u kanker-actueel de moeite waard vinden en ons willen ondersteunen om kanker-actueel online te houden dan kunt u ons machtigen voor een periodieke donatie via donaties: https://kanker-actueel.nl/NL/donaties.html of doneer al of niet anoniem op - rekeningnummer NL79 RABO 0372931138 t.n.v. Stichting Gezondheid Actueel in Amersfoort. Onze IBANcode is NL79 RABO 0372 9311 38
Elk bedrag is welkom. En we zijn een ANBI instelling dus uw donatie of gift is in principe aftrekbaar voor de belasting.

En als donateur kunt u ook korting krijgen bij verschillende bedrijven:
https://kanker-actueel.nl/NL/voordelen-van-ops-lidmaatschap-op-een-rijtje-gezet-inclusief-hoe-het-kookboek-en-de-recepten-op-basis-van-uitgangspunten-van-houtsmullerdieet-te-downloaden-enof-in-te-zien.html
19 december 2016: Bron: Front Nutr. 2016; 3: 24. Published online 2016 Aug 16.
Veel groenten hebben voedingsstoffen waarvan bekend is dat die anti kanker effecten hebben. Zo maken groenten als broccoli, spruitjes (algemeen aangeduid als kruisbloemige groenten) bijna altijd deel uit van een dieet ter voorkoming of bestrijding van kanker. En alle bekende dieëten adviseren dagelijks salades en soms zelfs rauwe groenten te eten.
In een studierapport Bioavailability of Glucosinolates and Their Breakdown Products: Impact of Processing beschrijven onderzoekers aan de hand van de literatuur de invloed van bewaren (in of buiten de koelkast bv.) en de manier van bereiden op de zogeheten biobeschikbaarheid (= opname mogelijkheid door het lichaam van die goede voedingsstoffen) die bepalend zijn voor de effectiviteit van voedingsstoffen in relatie tot preventie en / of bestrijding van kanker.
Bij de meeste groenten verliezen deze bij koken of bereiden via de magnetron ca. 60 procent van hun voedingswaarde tegenover ca. 10 tot 20 procent bij stomen of soms zelfs niets bij rauw eten. Maar verschilt ook per groente. En soms is het eten van iets anders erbij (vezels bv.) ook beter voor de opname beschikbaarheid. Raadpleeg dus altijd een gekwalificeerd voedingsdeskundige / natuurarts als u een bepaald dieet wilt gaan gebruiken.
Tekst gaat verder onder foto, die een schematisch beeld geeft van waar en hoe bepaalde voedingsstoffen worden opgenomen of afgebroken door het lichaam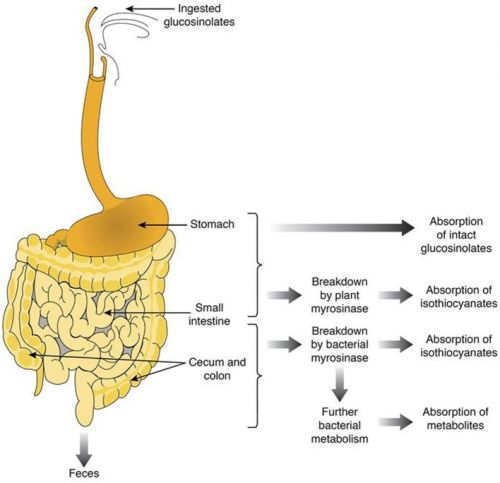 Bron foto: Frontiers in Nutrition
Het rapport is wel in medische taal maar duidelijk is wel dat stomen van groenten veel beter is dan koken of de magnetron. En dat rauw eten van sommige groenten (broccoli bv.) soms het beste is, maar niet altijd.
Hier een schema uit dat rapport dat volgens mij duidelijk genoeg is en hoef ik niet te vertalen neem ik aan:
Table 2
| Cooking conditions | Main findings | Reference |
| --- | --- | --- |
| Boiling or steaming for 10 min | Reducing sinigrin by 9.6 and 29.1% in steamed and boiled cauliflower | (134) |
| Blanching, microwaving, or steaming cabbage for up to 10 min | Blanching decreased glucosinolate and S-methylmethionine levels, whereas microwaving or steaming preserved them | (135) |
| Steaming for 10 min, boiling for 15 min, and high-pressure cooking for 7 min | Losses between 20–33% and 45–60% in pressure treatment and boiled vegetables, respectively. Breakdown products of aliphatic glucosinolates decreased from 5 to 12% in steamed, 18 to 23% in pressure-cooked, and 37 to 45% in boiled samples | (136) |
| Boiling Brussels sprouts at 100°C for 5, 15, and 30 min | The presence of seven breakdown products (indole-3-acetonitrile, indole-3-carbinol, ascorbigen, 3,3′-diindolylmethane, 3-butenylnitrile, 4-methylsulfinylbutanenitrile, and 2-phenylacetonitrile) after boiling | (137) |
| Boiling for 5 min. Stir-frying at 130°C for 5 min. Microwaving (450 W) for 5 min. Steaming for 5 min | Compared with fresh-cut red cabbage, all cooking methods were found to cause significant reduction in total glucosinolates contents | (138) |
| Boiling in water with a cold start (25°C); boiling with a hot start (100°C); and steaming | Steaming showed an increase in the amount of total glucosinolates (+17%). Boiling-hot start (−41%) and boiling-cold start (−50%) reduced total glucosinolates | (139) |
| Cutting (2-inch pieces) and then hot water blanching at 66, 76, 86, and 96°C for 145 s | Blanching at ≥86°C inactivated peroxidase, lipoxygenase, and myrosinase. Blanching at 76°C inactivated 92% of lipoxygenase activity, and leads to 18% loss in myrosinase-dependent sulforaphane formation | (140) |
| Radio frequency cooking in oven transferring 180 kJ. Steaming for 8 min at 100°C | Increasing glucosinolates from 10.4 μmol g−1 DW in fresh broccoli to 13.1 and 23.7 μmol g−1 DW after radio frequency cooking and steaming, respectively | (141) |
| Cooking at 100°C for 8 and 12 min | Limited thermal degradation of glucoraphanin (less than 12%) was observed when broccoli was placed in vacuum-sealed bag | (142) |
| Cutting broccoli (15 cm long). Boiling for 3.5 min at 100°C. Low pressure (0.02 MPa) steaming at 100°C, 5 min. High-pressure (0.1 MPa) steaming for 2 min. Under vacuum treatment at 90°C for 15 min. Microwaving at 900 W, 2.5 min. Vacuum-microwaving (−98.2 kPa) at 900 W, 2.5 min | Boiling and under vacuum processing induced the highest glucosinolate loss (80%), while low-pressure steaming, microwaving, and vacuum-microwaving showed the lowest (40%) loss | (143) |
| Blanching broccoli for 30, 90, and 120 s. Stir-frying at 100–130°C for 90 s. Microwaving at 800 W for 90 s | Blanching at 120 s decreased total glucosinolates by 36%, stir-frying and microwaving decreased them by 13–26% | (144) |
| Boiling and steaming Portuguese cabbage for 12 min, and for 15 min for the other Brassica. Microwaving at 850 W, 8 min | Steaming contributed to the higher glucosinolates preservation, whereas boiling water led to higher losses (57% in Brassica oleracea and 81% in Brassica rapa cultivars) | (127) |
| Microwaving at 1100 W, steaming and boiling. Cooking times were 2 or 5 min | Steaming resulted in higher retention of glucosinolates, while boiling and microwaving resulted in significant losses | (145) |
| Boiling, high-pressure cooking, and steaming for up to 15 min | Better preservation of glucosinolates with steaming. Similar losses (64%) after boiling and high-pressure cooking | (146) |
| Microwaving (590 W, 5 min), frying (180°C, 5 min), frying (3 min)/microwaving (2 min), steaming (5 min), and baking (200°C, 5 min) | Significant modifications of total aliphatic and indole glucosinolates by all cooking treatments, except for steaming | (147) |
Een ander studierapport onderzocht de invloed van kruisbloemige groenten bij darmkanker.
Ook uit dit rapport blijkt dat het opslaan en vooral de bereiding van die groenten een grote rol speelt in het wel of geen effectiviteit in relatie tot darmkanker. Zie dit studierapport in PDF formaat: Cruciferous vegetables and colo-rectal cancer
Het abstract van die laatste studie staat hieronder met interessante referentielijst met doorklikbare andere studies gerelateerd aan dit onderwerp.
When cruciferous are cooked before consumption, myrosinase is inactivated and glucosinolates transit to the colon where they are hydrolyzed by the intestinal microbiota. Numerous factors, such as storage time, temperature, and atmosphere packaging, along with inactivation processes of myrosinase are influencing the bioavailability of glucosinolates and their breakdown products.
Bioavailability of Glucosinolates and Their Breakdown Products: Impact of Processing
Abstract
Glucosinolates are a large group of plant secondary metabolites with nutritional effects, and are mainly found in cruciferous plants. After ingestion, glucosinolates could be partially absorbed in their intact form through the gastrointestinal mucosa. However, the largest fraction is metabolized in the gut lumen. When cruciferous are consumed without processing, myrosinase enzyme present in these plants hydrolyzes the glucosinolates in the proximal part of the gastrointestinal tract to various metabolites, such as isothiocyanates, nitriles, oxazolidine-2-thiones, and indole-3-carbinols. When cruciferous are cooked before consumption, myrosinase is inactivated and glucosinolates transit to the colon where they are hydrolyzed by the intestinal microbiota. Numerous factors, such as storage time, temperature, and atmosphere packaging, along with inactivation processes of myrosinase are influencing the bioavailability of glucosinolates and their breakdown products. This review paper summarizes the assimilation, absorption, and elimination of these molecules, as well as the impact of processing on their bioavailability.
Conclusion
Bioavailability of glucosinolates and their breakdown products depends on many factors, including the inactivation or not of myrosinase, the processing and storage conditions, and the association with other food constituents. It is well known that consumption of Brassica vegetables is associated with anticarcinogenic effects and other beneficial biological activities of the breakdown products. Numerous studies have described the assimilation and metabolism of both glucosinolates and their derivatives, however, the literature is lacking the description of detailed mechanisms and models associated with these phenomena. With regard to the beneficial effects of glucosinolates, in addition to breeding, transgenic plants could also be a possible way to enhance specific molecules by either overexpressing or inactivating genes, or even more, cloning regulatory factors, which is insufficiently studied up to the present.
Author Contributions
FB, NN, SR, AK, ZZ, and MK have been involved in checking literature, writing the paper, and reviewing the final version.
Conflict of Interest Statement
The authors declare that the research was conducted in the absence of any commercial or financial relationships that could be construed as a potential conflict of interest.
Acknowledgments
FB was supported from the Union by a postdoctoral Marie Curie Intra-European Fellowship (Marie Curie IEF) within the 7th European Community Framework Programme (http://cordis.europa.eu/fp7/mariecurieactions/ief_en.html) (project number 626524 – HPBIOACTIVE – Mechanistic modeling of the formation of bioactive compounds in high pressure processed seedlings of Brussels sprouts for effective solution to preserve healthy compounds in vegetables).
Abbreviations
ESP, epithiospecifier protein; ITCs, isothiocyanates; MAP: modified atmosphere packaging; NAC, N-acetyl-l-cysteine.
---
Articles from
Frontiers in Nutrition
are provided here courtesy of
Frontiers Media SA
Gerelateerde artikelen