Helpt u ons aan 500 donateurs?
28 mei 2018: Bron: RIVM
Het RIVM heeft een rapport opgemaakt over het gebrijk van bateriofagen bij infecties na bezoek aan het Georgische George Eliava Instituut waar al heel lang gewerkt wordt met bacteriofagen. (zie verderop in dit artikel)
Het RIVM schrijft in hun rapport dat er is te weinig kennis is over hoe bacteriofagen werken in het menselijk lichaam om ze nu al bij infecties te kunnen gaan gebruiken. Naast meer onderzoek zou ook aangepaste wet- en regelgeving nodig zijn om deze virussen in te kunnen zetten bij infecties in mensen. Tot die conclusie komt het Rijksinstituut voor Volksgezondheid en Milieu (RIVM), dat de huidige kennis over en ervaring met bacteriofagen in een rapport op een rijtje heeft gezet.
Het rapport: Bacteriofagen. Huidige kennis, onderzoek en toepassingen' is gratis in te zien op de website van het RIVM.
Publiekssamenvatting
Bacteriofagen (ofwel fagen) zijn virussen die bacteriën kunnen doden. Ze werden begin vorige eeuw ontdekt, ongeveer tegelijk met antibiotica. Fagen hebben een ander werkingsmechanisme dan antibiotica. In theorie zouden ze daarom kunnen worden ingezet om infecties te behandelen die ongevoelig zijn voor antibiotica. Er is echter nog te weinig onderbouwd klinisch onderzoek beschikbaar om de meerwaarde van bacteriofaagbehandeling te kennen en dit veilig en voor meerdere soorten infecties te kunnen doen. Dit blijkt uit een inventarisatie die het RIVM heeft gemaakt van de huidige kennis over bacteriofagen voor de behandeling van infecties bij mensen.

Een faag werkt heel specifiek tegen één type bacterie, terwijl antibiotica werkzaam zijn tegen meerdere bacteriesoorten. Hierdoor kunnen fagen niet zo snel worden ingezet tegen infecties: eerst moet de ziekmakende bacterie geïdentificeerd en opgekweekt worden, waarna er een bijpassende faag of fagen bij moeten worden gezocht. Om deze praktische redenen hadden antibiotica meer succes en is het gebruik van fagen op de achtergrond geraakt.

De kennis over de precieze werking van bacteriofagen bij behandeling van infecties, hoe ze zich gedragen in het lichaam, welke dosering en behandelduur nodig zijn, en de risico's van gebruik is nog beperkt. Door het tijdrovende en complexe bereidingsproces zijn bacteriofagen niet geschikt om acute infecties te behandelen. In theorie zouden ze wel bij chronische infecties kunnen werken, bijvoorbeeld voor oppervlakkige huidinfecties. Om vragen over zulke toepassingen en de meerwaarde daarvan te beantwoorden is gecontroleerd klinisch onderzoek noodzakelijk, maar dat ontbreekt nog.

Daar komt bij dat de huidige Europese wet- en regelgeving voor geneesmiddelen niet gemaakt is voor patiëntspecifieke biologische producten, zoals bacteriofagen. In Europees verband wordt erover nagedacht om de wet- en regelgeving voor biologische producten te veranderen. In andere sectoren, zoals landbouw en voedselproductie, gelden minder strenge regels voor werkzaamheid en het gebruik van deze producten dan voor gebruik bij mensen. In deze sectoren worden fagen al wel ingezet.
24 oktober 2017: Bron o.a. DWDD en Wikipedia
Afgelopen vrijdag 20 oktober 2017 vertelde Antoinette Hertsenberg in DWDD (zie hier de uitzending van DWDD) over de aanpak met een bacteriofaag, virussen die bacteriën van binnenuit doden, voor resistente bacteriën waar antibiotica niet meer werkt. Met een sprekend voorbeeld van iemand die door de bacteriofaag zijn benen zou verliezen (diabeteswonden), maar door de bacteriofaag aanpak de bacterie in zijn been volledig wegkreeg en daarmee zijn been behield. Het verhaal werd zoals we wel kennen van Antoinette Hertsenberg uit haar RADAR uitzendingen met veel drama en overdrijving, maar was natuurlijk in eerste instantie bedoeld om aandacht te vragen voor de uitzending van Dokters van Morgen te zien op dinsdag 24 oktober 2017 21.30 uur NPO 1.
Ook de gespeelde verbazing en onwetendheid van Matthijs van Nieuwwkerk klonk echt ongeloofwaardig. Ik neem toch aan dat bij het aanbod van Antoinette Hertsberg om haar verhaal te doen de redactie op z'n minst even heeft gezocht via google. Dan hadden zij heel veel informatie gevonden. Want er was al eerder een uitzending over dit onderwerp, zie Bacteriofagen: een alternatief voor antibiotica? d.d. 21 maart 2017 op NPO 1.
Of bekijk: Eerste Nederlander gered met bacteriofaag hoewel de man Bart Vissers later alsnog toch is overleden aan een hartstilstand: Volgens de programmamakers van het AVROTROS-programma Zorg.nu staat het overlijden van Bart Vissers (61) los van de therapie die hij ondergaan heeft. "Vissers leed aan meerdere complicaties en is uiteindelijk overleden aan een hartstilstand", aldus zijn behandelend arts.(tekst gaat verder onder plaatje van bacteriofaag)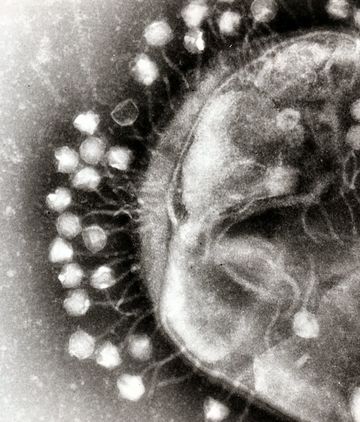 Een bacteriofaag
En ook in België en Nederland worden bacteriofagen dus ontwikkeld. In belgië in samenwerking met het door Antionette Hertsenberg genoemde Eliava instituut in Georgië. Dit Instituut is al sinds de jaren twintig van de vorige eeuw met deze techniek bezig. Het instituut in Tblisi is in 1923 opgericht. Het is daar heel normaal om voor een fagenbehandeling te kiezen. De wachtkamer zit vol met Georgiërs met de meest uiteenlopende kwalen. Maar sinds een paar jaar komen er ook vanuit Amerika, Frankrijk, India, Zwitserland en zelfs uit Uruguay patiënten die als laatste redmiddel voor een fagentherapie kiezen. Zij komen uit landen waar antibioticagebruik buitensporig is en resistentie daardoor ook.
In het militair hospitaal Koningin Astrid in Brussel is dr. Jean Paul Pirnay hoofd van het fagenlab. Hij produceert fagen voor mensen die aan het eind van hun latijn zijn. Antibiotica werken niet meer voor deze patiënten. Hij gebruikt hierbij de verklaring van Helsinki (artikel 37) die het toestaat met goedkeuring van de patiënt een experimenteel medicijn toe te dienen wanneer niets anders meer helpt. Zo produceerde hij ook fagen voor Bart Vissers die door doorligwonden de gevaarlijke Pseudomonas bacterie opliep. Hij kon geen antibioticakuur meer verdragen en dreigde te sterven. Hij had al maanden kuren achter de rug. Dr. Serge Jennes, hoofd Brandwondencentrum diende hem als laatste redmiddel een fagenkuur toe. De Pseudomonasbacterie verdween. De Belgische minister van Volksgezondheid heeft onlangs toestemming gegeven om apotheken in België ook fagen te laten verstrekken. Dr. Pirnay kan ze in zijn lab ontwikkelen, in eerste instantie voor 'hopeloze gevallen' en voor gecontroleerde studies. Als deze applicaties succesvol zijn, dan hoopt Pirnay dat de industrie deze fagen op grotere schaal zal produceren.
(Tekst gaat verder onder plaatje dat het werkingsmechaniosme van de bacetriofasgen weergeeft)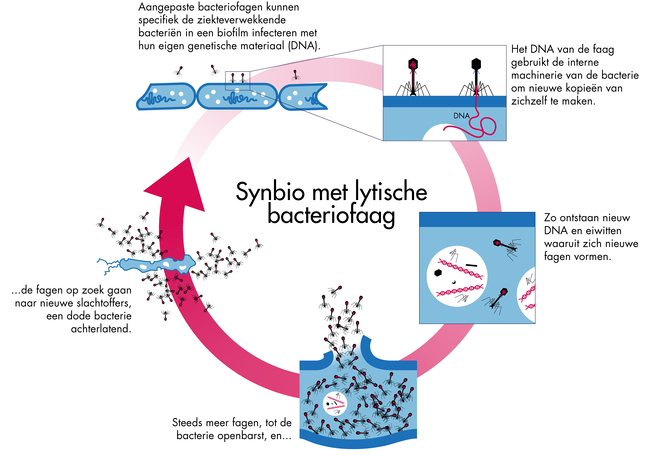 Bron foto boven: Kennislink
Het goede van de publiciteit is dat het werkingsmechanisme interessant is en wellicht ook gebruikt kan worden bij kankerpatienten die in bestraald gebied een bacterie hebben gekregen en die amper zijn te behandelen. Denk maar aan borstkankerpatiënten die nu via hyperbare zuurstoftherapie soms proberen de problemen in bestraald gebied op te lossen. (ik heb zelf ook 40 dagen hyperbare zuurstoftherapie gehad en op sommige dagen waren er ook borstkankerpatienten met infecties in bestraald gebied.) Al is in dit geval niet altijd sprake van een resistente bacterie denk ik. Maar weet dat niet zeker. Misschien is een bacterie wel altijd de oorzaak. Bij mij werd het preventief voorgeschreven om infecties te voorkomen bij het operatief verwijderen van mijn kiezen, liggend in bestraald gebied.)
Informatie over bacteriofagen zijn al jaren te vinden op internet. Dit artikel: Virussen: een goed alternatief voor anti-biotica? in Kennisnet geeft duidelijke en heldere informatie over de ontwikkeling van bacteriofagen.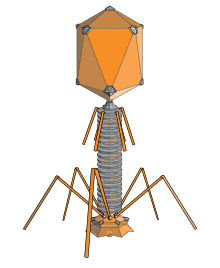 Bacteriofaag uit Wikipedia
En ook op wikepedia is veel informatie over bacteriofagen te vinden.
En uiteraard is al onderzoek gedaan naar bacteriofagen therapie. Dit volledige studierapport van een reviewstudie uit 2014 geeft interessante informatie: Viruses versus bacteria—novel approaches to phage therapy as a tool against multidrug-resistant pathogens gepubliceerd in het tijdschrift met de veelzeggende titel: Journal of antimicrobial chemotherapy. Abstract staat hieronder met referentielijst.
Hun conclusie:
As a final remark, patients suffering from multidrug-resistant pathogenic infections should soon be allowed access to phage therapy to ultimately achieve an 'ESKAPE' from the threat of untreatable bacterial infections.
Samenvattend wellicht de moeite waard naar de uitzending van Dokters van Morgen te kijken op dinsdag 24 oktober 2017 21.30 uur NPO 1, maar de aanpak daarmee is niet in alle gevallen succesvol. Al blijft het een interessante ontwikkeling.
This review presents novel strategies for phage-related therapies and describes our current knowledge of natural bacteriophages within the human microbiome.
Bacteriophage therapy (the application of phages to treat bacterial infections) has a tradition dating back almost a century, but interest in phage therapy slowed down in the West when antibiotics were discovered. With the emerging threat of infections caused by multidrug-resistant bacteria and scarce prospects of newly introduced antibiotics in the future, phages are currently being reconsidered as alternative therapeutics. Conventional phage therapy uses lytic bacteriophages for treatment and recent human clinical trials have revealed encouraging results. In addition, several other modern approaches to phages as therapeutics have been made in vitro and in animal models. Dual therapy with phages and antibiotics has resulted in significant reductions in the number of bacterial pathogens. Bioengineered phages have overcome many of the problems of conventional phage therapy, enabled targeted drug delivery or reversed the resistance of drug-resistant bacteria. The use of enzymes derived from phages, such as endolysin, as therapeutic agents has been efficient in the elimination of Gram-positive pathogens. This review presents novel strategies for phage-related therapies and describes our current knowledge of natural bacteriophages within the human microbiome. Our aim is to provide an overview of the high number of different methodological concepts, thereby encouraging further research on this topic, with the ultimate goal of using phages as therapeutic or preventative medicines in daily clinical practice.
As a final remark, patients suffering from multidrug-resistant pathogenic infections should soon be allowed access to phage therapy to ultimately achieve an 'ESKAPE' from the threat of untreatable bacterial infections.
References
© The Author 2014. Published by Oxford University Press on behalf of the British Society for Antimicrobial Chemotherapy. All rights reserved. For Permissions, please e-mail: journals.permissions@oup.com
Gerelateerde artikelen